The server acts as a connecting link in the local network through which the Internet spreads and workplaces are managed. It can also be used to store information and create system backups. To set up a server computer, you need to have a good understanding of networking technologies.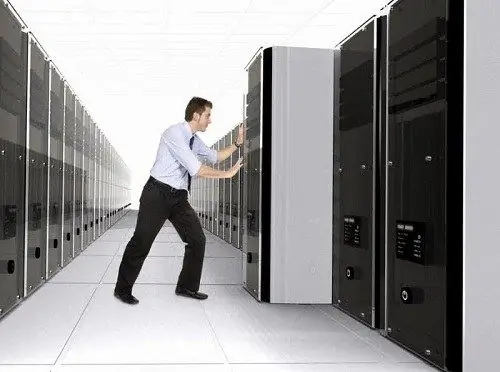 Instructions
Step 1
Build or select the computer that you want to set up as a server. Its technical and system characteristics must meet the requirements. The main thing is that it must be powerful enough to process large flows of information transmitted between the local and global network without problems and brakes. If you also plan to use the server for storing information or for backing up systems, then it must be equipped with sufficient memory.
Step 2
Equip the server computer with a dual-slot network adapter. The first one will be used to connect to the internet, and the second one will be used to connect to a LAN hub. You will also need a network cable, which consists of four unshielded twisted pairs, connectors for connection, and a crimping device. Make sure you have all the necessary details to create a local network and set up a server.
Step 3
Start the server computer. Go to the "Network and Sharing Center" and open the "Change adapter settings" window. Right-click on your internet connection and select Properties. Go to the "Access" tab and activate the permission for other network users to use the Internet connection of this computer. Close the window and open the settings of the adapter connected to the local network.
Step 4
Highlight "Internet Protocol TCP / IPv4" and click on the "Properties" button. Check the "Use the following IP address" box and assign a network address and subnet mask to your server. For example, you can put the IP address 192.168.0.1 and the subnet mask 255.255.255.0. Save your settings and close the window.
Step 5
Turn on the computers on the local network and open the connection properties. Go to Internet Protocol Settings. Assign each computer its own IP address, it is most convenient to number them in order, starting with two. For example, the first computer on the network will have an IP address of 191.168.01.2. After that, specify the subnet mask, which must match the server settings, and fill in the server details. Save the settings.