Tags are used in web programming to send commands to a Content Management System (CMS) or directly to a browser. To ensure that these commands are executed rather than displayed on the screen, they are separated by predefined characters.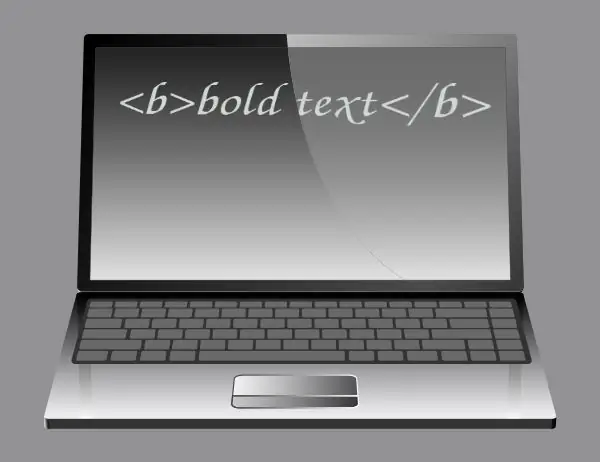 Instructions
Step 1
When composing pages in HTML, use angle brackets to separate tags from text. Precede the command with an opening angle bracket, followed by a closing angle bracket. If the command is complex, enclose the entire construction in such brackets, for example:. To undo a tag, precede it with a forward slash from the lower-left corner to the upper-right corner, for example, like this:. Such a line is called a forward slash (there is also a backward slash, directed from the upper left corner to the lower right).
Step 2
The Wiki markup language uses three types of brackets at once: angle, square and curly. In all cases, the command starts with an opening parenthesis and ends with a closing parenthesis of the same kind. Angle brackets are left for compatibility with HTML, and you can use almost all HTML tags when composing Wiki pages. But if there is an equivalent command in the Wiki language, it is better to use it, for example, instead of the construct … use the construct '' '…' ''. Place links to pages outside the resource in single square brackets, for example: [https://site.domain/something.html Link to external page]. The same brackets, but double, use for links to pages within the same site, inserting images (only within the server), etc., for example:or [Image: Something.jpg
Step 3
In most forums, you can use HTML tags by replacing angle brackets with square brackets, for example: … . Please note that not all commands operate this way. Some of them are written slightly differently than in HTML, for example, an image is inserted like this:
Step 4
Some resources, such as blogs and forums, allow the use of HTML, Wiki and bb tags interspersed. In this case, read the site rules to find out which commands are supported by its "engine".