It has long been known that 90% of computers in the world are installed with some kind of operating system from the Windows family, so you may encounter a situation when some devices do not work on other platforms (due to the lack of drivers). As a rule, the release of the necessary drivers can be expected for years, and the problem remains unresolved.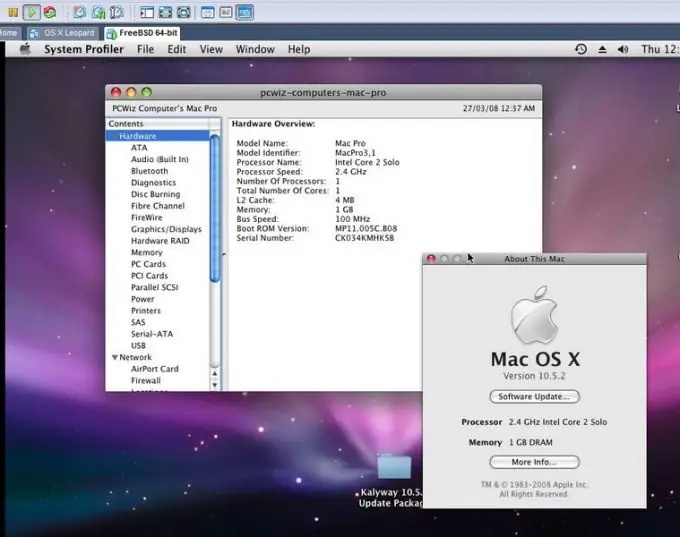 Necessary
- operating system Mac OS X;
- operating system Windows XP;
- USB modem.
Instructions
Step 1
If you are faced with a situation when you need to connect to the Internet via a USB modem in Mac OS X, and the corresponding drivers are not included, organize pairing with a virtually running Windows system. To do this, connect your modem to your Mac OS computer.
Step 2
Launch Parallels Desktop, now you need to configure it, so you should not start the virtual machine. Click the top menu and select "Settings", then the item "Network". In the settings of the "Internal computer network" specify the values of "start and end addresses" - 192.168.0. After the dot in the "initial" one should put 128, and in the final - 254.
Step 3
Then go to "System Preferences", select "Network". After selecting the adapter, specify the same values for "Router" and "DNS server" - 192.168.0.1. In the settings of the virtual machine, open the "Hardware" section and select "Network adapter". Select "Shared Network".
Step 4
There are 2 buttons under the list of devices - "+" and "-". Press "+" to create a copy of the selected item. In the settings, specify the type of connection - "Internal computer network" and click "OK".
Step 5
Now you need to start a virtual machine and an operating system of the Windows family. In it, you must install the modem by creating an Internet connection. To do this, you can use the "Connection Wizard", which will appear immediately after starting the system.
Step 6
If a disc was included with the modem, run it and install the drivers. Once the connection is established, note that all users on the network can use the Internet, so you can get an Internet connection on Mac OS. Please note that when you turn off the virtual device, the connection will not be available.