An Internet user cannot do without their own email address. It is even better if there are several of them - one for the main correspondence and one or two additional ones. There are many free mail services on which you can create your mailbox. Registration for them takes place according to the same principle and will not be difficult even for beginners on the Internet. See how this is done using the example of Rambler-Mail.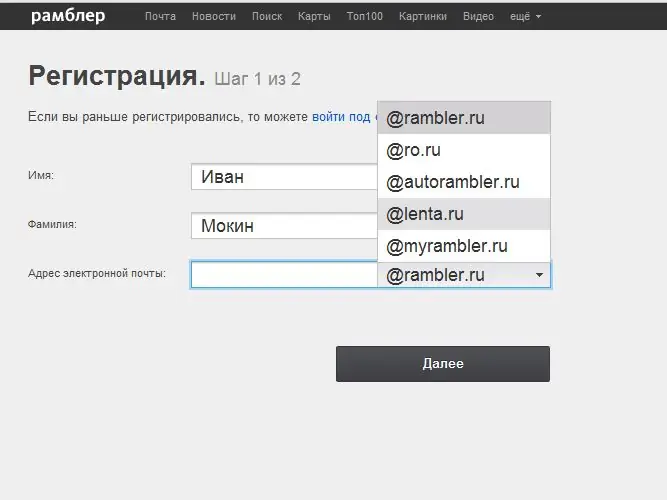 Instructions
Step 1
Go to the main page of "Rambler" http://www.rambler.ru/ or to the login page to "Rambler-Mail" http://mail.rambler.ru/ and click on the button "Create mail on Rambler"
Step 2
Enter your first and last name in the lines of the form that opens. If you cannot come up with a login for your mailbox on your own, wait a while - the system will offer you free options. If you have your own option, but it is busy, try changing the domain in the drop-down list. It is quite possible that your option will be free on a different domain. After you select a suitable username, click on the "Next" button
Step 3
Create a password to log into your mailbox. Try to choose a password that is complex enough, but do not overdo it, otherwise you yourself will not be able to remember it correctly
Step 4
Select a security question and enter the answer to it. If you don't like any of the questions, install your own. Do not pose a question that you know the answer to, or enter the answer in a form that only you can understand. For example, using diminutive suffixes. Or use capital letters in the center of the word - the correct answer is case-sensitive. Be very careful when entering your answer to your security question. If you accidentally make a typo, it will be difficult for you to restore access to Rambler projects later
Step 5
Enter an alternative email address and your date of birth - you will also need this information if you forget your password for your mailbox. Please enter your gender. Enter the verification code characters. Click on the "Register" button
Step 6
Check out your registration information that will appear on the page that opens. You can, just in case, print this data or save it to a file - for this, there are special links on the page on the right
Step 7
Click on the "Go to Rambler-Mail" button - you will be taken to your mailbox. Everything, you can use it.