You have created a page on the Odnoklassniki social network. But it is completely unsightly compared to the pages of other users. In order for it to be colorful, it must be filled.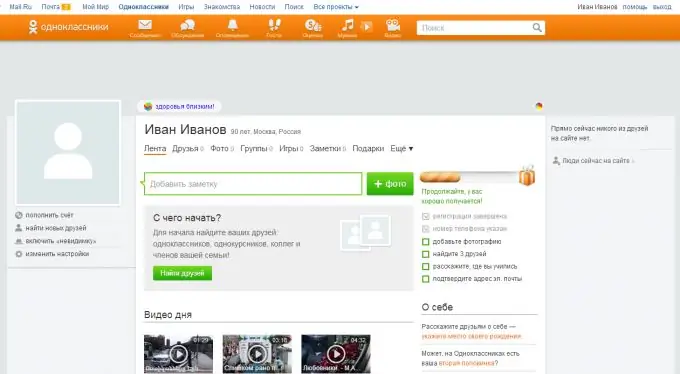 Instructions
Step 1
Adding the main photo. First of all, you need to add your main photo or avatar in another way. Instead, there is now a picture with a white silhouette on a blue background. This picture means that you do not have a main photo. To add it, click on the silhouette image. After that, a window will open where you will have to select the picture that you want to make the main one. After selection, double-click on it with the computer mouse. After uploading, the photo will automatically become the main one.
Step 2
Choosing a background. You may have already noticed that the pages of other users of the Odnoklassniki social network have a beautiful design or background. You can also install it for free. To do this, on the home page of your profile, find a circle with a palette image. It's under the Search line. Move the mouse cursor over it and click on the inscription that appears Decorate your page. Then look at the skins. Click on the one you like best. After that, a window will open that will show you how your page will look with a particular theme. If you like it, you need to save it by clicking on the Install button. If you want to view other topics, click on the Choose another topic button.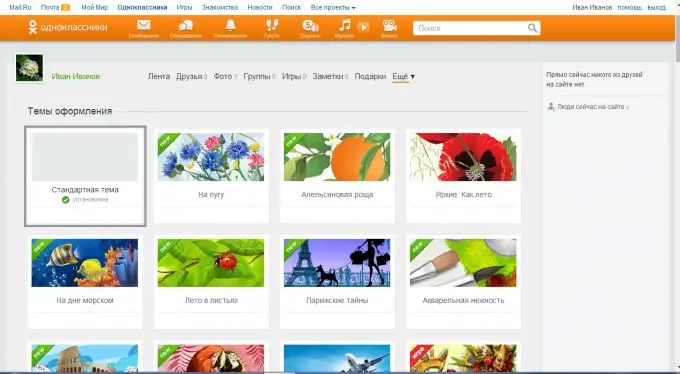 Step 3
Finding friends. In order to find friends, click on the line Find new friends, which is located second from the top under your main photo. In the line outlined in blue, enter the first and last name of the person you are looking for. For a faster search on the right, enter all the information you know about the person. When you find him, click the Befriend button. After that, in the window that opens, choose who he is to you. You can view his page if it is not locked (padlock sign opposite the name). To view, click on the person's name. You can also search for music, bands or games. To do this, click on the tab with the appropriate name.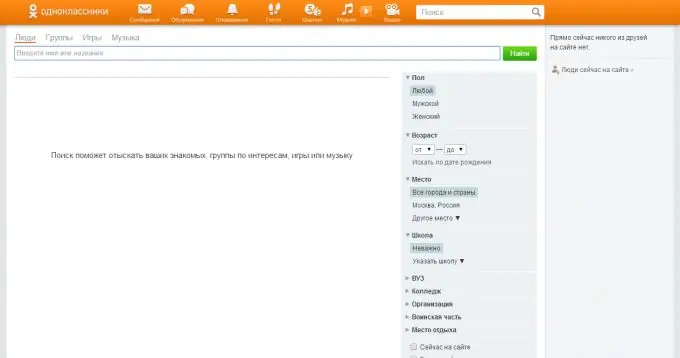 Step 4
Page settings. To change any settings of your page, then click on the Change settings button, which is located under the main photo. Phone number - change phone number $; login and password - change login and password; setting up notifications - set up notifications that come to your phone number and email; hiding from the feed and convictions - a list of people whose news is not displayed in your feed; publicity settings - adjust the visibility of information about you to other people; close profile - by setting this, only friends can view your page; history of visits - here is displayed the history of when and from what your profile was opened, if it was not you who opened it, then you were hacked and you need to change your password; profile link - you can change the profile link, for example, it was odnoklassniki.r * / id *********, but you can change it to odnoklassniki.r * / vanaygangster, the link changes for free; you can change the language of the page and find out your ID.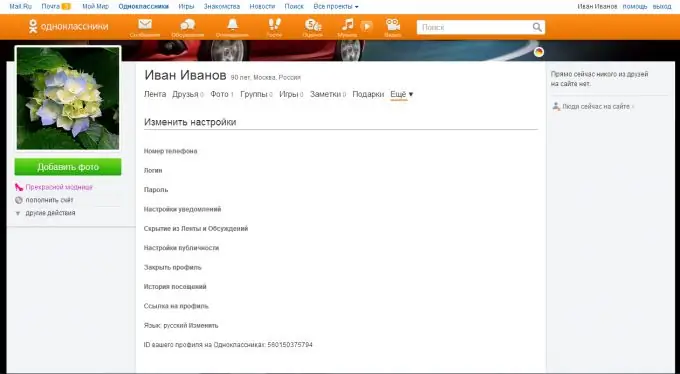 Step 5
About myself. Add information about your interests, place of birth, school and much more so that people would know more about you. To do this, to the right of the news feed, find the About me column. Below is the Next> button, click on it. A page will open with many lines about your interests. You can fill them in, but this is not required. You can also change your name and date of birth by clicking the Edit Personal Information> button.