Slideshow is a great alternative to video. With the help of a slideshow, you can make a presentation for study or work, congratulate friends or make a family movie from funny photos.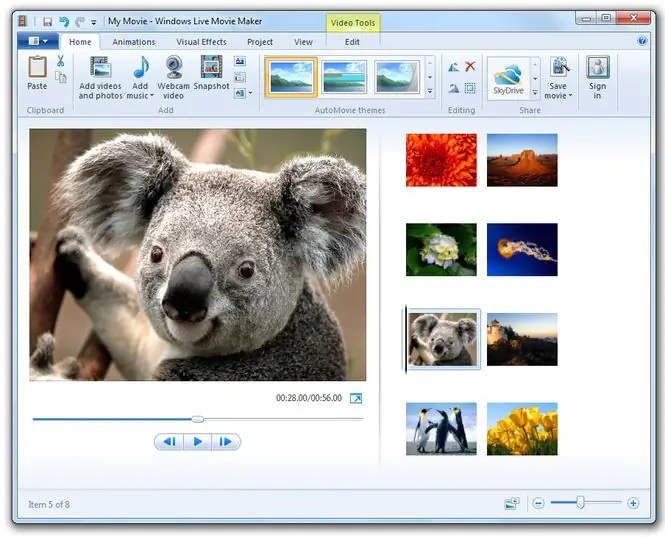 Instructions
Step 1
In order to make a slideshow, select the necessary photos and music. Create a new folder on the "desktop" and place the prepared materials in it. All preparations for creating a slideshow are ready.
Step 2
Open Movie Maker. In the left part of the window that opens, click on the "Import images" tab. A new window will open on your screen so that you can select the photos you need. Navigate to the folder where you saved the content and select the images you want from it. Then click the "Import" button.
Step 3
At the bottom of the screen, where the slide display ribbon is located, select the Storyboard Display tab. After that, a strip with empty frames will appear on the screen. With the left mouse button, drag your photos to the empty frames in the order you want.
Step 4
Then press the button "View video transitions" in the left window "Operations with movies". After executing this command, a new window will open with various types of transitions from slide to slide. Drag the transitions you like with the left mouse button on the spaces between frames of the future slideshow.
Step 5
In the options window, click on the "Create Titles and Titles" button. Now you can write the title of your slideshow, as well as choose the animation effect that will be present on the title slide. You can customize the size, font and color of the caption using the "Extras" menu.
Step 6
Now you need to designate the time during which the slideshow will be played. On the ribbon, where the slide storyboard is displayed, click the "Time Display" button, set the required period of time. Also, you can manually adjust the duration of each slide. To do this, drag the left mouse button over the edge of the image on the timeline.
Step 7
Add music to your slideshow. To do this, import the audio file into the program, then drag it to the tape below the video tape. If necessary, add a decrease and increase in sound, cut the music track if it does not coincide in time with the slideshow.
Step 8
To save the slideshow, select the "File" tab, then select the "Save Movie File" item.