Today there are many ways to access the Internet, and one of them is a mobile phone. This does not mean accessing the Internet from a mobile phone, but using it as a modem that is connected to a laptop or computer. This type of Internet connection is not the most economical and convenient, but there are situations when there is simply no other way out.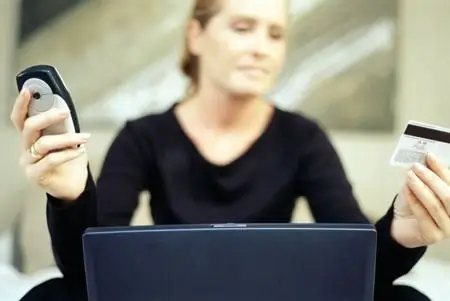 Necessary
- cellular telephone
- USB cable
- modem driver
Instructions
Step 1
Make sure that you have at your disposal all the equipment you need, namely: a cell phone, a USB cable or a Bluetooth adapter, a synchronizer program or a modem driver, a SIM card with a sufficient balance of funds.
Step 2
Install all the software you need. To do this, connect your phone to your computer and run the synchronizer program.
Step 3
Click "Start", select "Settings", then, "Control Panel", then - "Printers and Other Hardware" - "Phone and Modem". Enter your country and city code, click "OK". Go to the "Modems" tab, select the phone modem, click the "Properties" button. When the "Properties" window opens, select the tab there called "Additional Communication Options". In the box titled "Additional initialization commands" write in the initialization, click "OK". You can find out this line in the service center, or on the operator's website.
Step 4
Click "Start", then "Settings", then "Control Panel", select "Network and Internet Connections" there, then mark - "Network Connections", and finally - "Create a new connection". You will see the "New Connection Wizard" tab. Click the "Next" button, then in the "Type" window of the network connection that opens, make a mark "Connect to the Internet", click "Next" again. Select the corresponding item "Set up a connection manually" - "Next". Then, in the "Select device" window, check the phone modem. Specify a name for the connection, click "Next". Specify the connection number, which can be obtained from the service center. Click "Next" and "Finish" again.
Step 5
You will see a window called "Connecting to the Internet. Click on the "Properties" button, you will see the "Internet Properties" window, where, on the "General" tab, mark the phone model that you configured earlier. Click the Configure button. The Modem Configuration window will appear, uncheck all the checkboxes there and click "OK".
Step 6
Go to the "Network" tab. In the "Type of remote access server to connect" tab, select "PPP: Windows 95/98 / NT4 / 2000, Internet", then click the "Options" button, uncheck all the checkboxes there and click "OK".
Step 7
Then check the "Internet Protocol (TCP / IP)" item and the "QoS Packet Scheduler" item in the "Components used by this connection" window.
Now the Internet is as usual, through the "Connections" folder.