Sberbank Online is a system for servicing clients on the Internet for one of the largest banks in Russia. With its help, you can monitor your account status in real time and from anywhere in the world, make the necessary payments, transfer money, and receive mini-statements.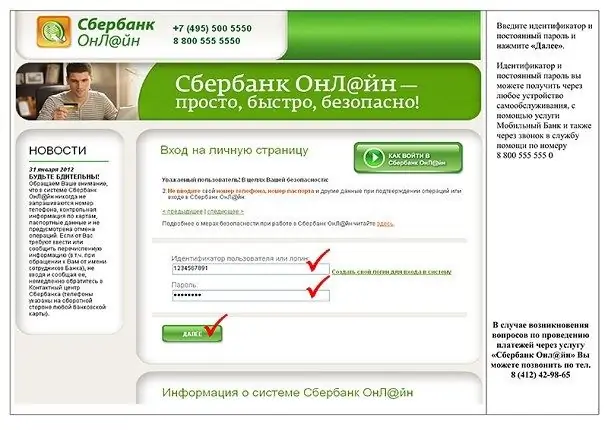 How to connect
You can connect Sberbank Online through an ATM or a self-service terminal or by calling the contact center toll-free for Russia: 8 (800) 555 5550 or +7 (495) 500 5550. The plastic card used to connect the service must be linked "Mobile Bank" service. One-time passwords will be sent to the registered phone number to confirm transactions. After a short registration procedure, the user receives a ten-digit ID and password. These data will serve to create a personal account in the Sberbank Online system, they cannot be disclosed to third parties.
How to log in
You can log in on the official website of Sberbank or through a special application for mobile devices. After the system approves the ID and password received during registration, they can be replaced with your own. When you first log into Sberbank Online, you may need to enter a one-time password sent to your mobile number. A receipt with a list of confirmation passwords can also be printed out in the bank's self-service device. If the data is entered incorrectly three times in a row, the login will be blocked for one hour. In this case, you can contact the support service for a new password.
How to expand the capabilities of the system
After entering your personal account, the main page will display information about the available plastic cards, the availability of accounts and deposits, the number of loans, other personal information, as well as available functions. The list of services offered by the Sberbank Online system can be expanded by contacting the bank with a passport to conclude a "Universal Banking Service Agreement".
Security measures
According to Sberbank specialists, the online customer service system is maximally protected. However, they strongly recommend that you adhere to certain security measures. So, to enter your personal account, you never need card data, phone number or any other confidential information. If you see a request for something else besides the ID and password, stop using the system and contact the bank. The same must be done if Sberbank Online requires a password to cancel transactions. It should also be remembered that bank employees never call customers with a request to provide their personal data.