A large amount of advertising on sites today is one of the main disadvantages of the Internet. Ads can be in the form of banners, text, pop-ups, opening tabs - all of which are annoying. There are different ways to fix this problem for each browser. Let's consider how you can get rid of ads in Yandex Browser.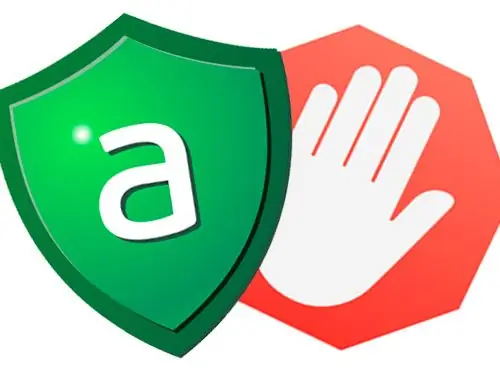 Installing Adblock
Since "Yandex Browser" is based on the open source Chromonium code, all extensions that are suitable for "Google Chrome" are suitable for it. Adblock is no exception here - it is one of the best ad blockers on the internet.
To install it, just type in the name "getAdblock" in any search engine, and then go to the official site. Then press the big button "Get Adblock now", in the pop-up small window "Add" and you're done! Now all advertising on any site will be blocked, and an icon with a white palm on a red background will flaunt in the upper right in the Yandex Browser.
Installing Adguard
If you do not trust third-party developers, you can use the extension built into Yandex Browser. It will also be able to remove some of the unwanted ads.
To connect it, find the menu button (three horizontal stripes) in the upper right corner of the browser and click on it. Then click the "Add-ons" menu item, find the Adguard extension in the window that opens and set the switch to "On".
You can activate or deactivate the Adguard extension. Its icon can be found in the upper right corner of Yandex Browser. Click on this icon and a small window will open with the words "Filtering on this site" and a radio button. If you suddenly need to watch some kind of advertisement, you can deactivate the Adguard extension by clicking on the switch.