Alchemy is a simple game that quickly became popular as soon as it came out and remains so to this day. However, it is not so easy to feel like an alchemist and create your own world.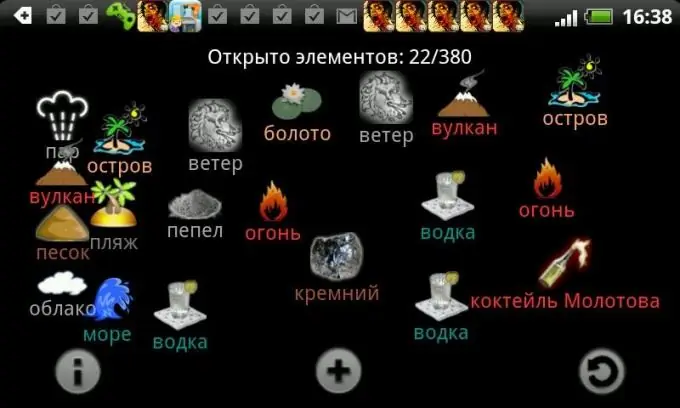 About the game
Alchemy is a game that appeared on the internet a few years ago. Initially, there was only one version of the game available on the official website. At the moment, there are several versions, including in the form of applications for mobile devices and tablets, as well as for the social network VKontakte.
The essence of the game is to create elements and a new world. In any version, four basic elements are initially available: water, earth, air and fire. By dragging and dropping elements and crossing them with each other, new ones appear, up to life and a person. The simplest example: if you mix water and air, you get steam.
Variations in the combinations of elements in different games are different, as are the results of crosses. When there are too many created matters and creatures on the screen, some of them can be thrown into the abyss. Double clicking on an empty space will create four basic elements. All created items are always available in the top row, and they can be sorted as they appear, alphabetically or by group. Each of them can be dragged onto the field for further experimentation. Often, versions of this game have a menu that shows which items can be created from existing ones.
A more colorful version is the flash game of the same name. Instead of a simple white or black field, an alchemical circle is drawn where you can drag items. To create a new one, you also need to click on the circle. There is also a black hole where you can throw items. Added a world in the form of a globe, in which you can see how it develops with new elements. This version of the game is available on several sites.
About tips for the game
Before looking for clues about the game, make sure you use the built-in version of the game you are using. For example, on the official site there is a "hint" menu item that opens a list of elements available for creation from existing ones. Moreover, by clicking on any item from this list, you can see its components. However, this prompt can only be used twice a day.
In the version of the flash game there is a menu item "reference", which opens all the available combinations of elements. In these two versions of the game, the creation of elements is very different from each other, so using them for another version will not always work.
If you are using the mobile version of the game, you will need to find specific tips for that version. For example, for the Android version, solutions are available on several resources. Please note that the version of the game is subject to updates and combinations are subject to change.
Another site contains recipes for different versions of the game "Alchemy". Therefore, the combinations that work will depend on your version. Remember, the game is made for fun and fun, so feel free to try and experiment. Have a good game!