Motive - the mobile operator of the Ural region, allows its subscribers to replenish their mobile phone account in various ways. Let's take a look at the main ones with which you will always stay in touch.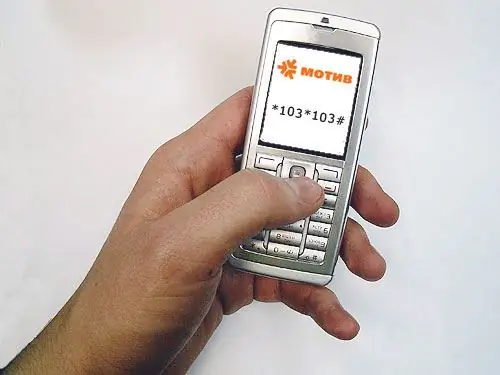 It is necessary
- payment cards in denominations of 100, 300, 500 or 1000 rubles;
- mobile phone;
Instructions
Step 1
The easiest way to top up your account in Motiva is to buy a payment card and activate it on your number. Activation is possible with:
- remote service - call the short number 111 and follow the instructions of the consultant;
- USSD service, dial * 101 * card secret code # call key on the phone keypad, a text about successful card activation should appear on the screen;
- IVR service, call ## 916 * secret code of the card # key for sending a call, wait for an answer about the transfer of funds;
- SMS service, write sms-message PCARD [space] the secret code of the card and send to number 1020. In response, you should receive an sms with a successful replenishment of the account.
Step 2
You can replenish your phone account using cash at the Motiv service offices, as well as through various payment systems - QIWI, DeltaPay, CyberPlat, RAPIDA, Svobodnaya Kassa and others. Make sure that there is a Motive icon in the payment terminal and do not forget that you need to enter the phone number in decimal format, that is, without 8 or +7.
Step 3
Deferred payment service http://cell.motivtelecom.ru/ekb/services/b2c/op allows you to top up your balance by 100 rubles when it is close to zero. To do this, dial the USSD request * 103 * 103 # on the phone keypad, the call key. After 5 days, 100 rubles will be debited from your account
Step 4
Using Mobile Transfer http://cell.motivtelecom.ru/ekb/services/b2c/mob_per you can top up the account of another Motiv subscriber. To do this, you need to dial the combination * 104 * 108 * recipient's phone number (without 8 or +7) * amount # call key. Please note that at least 50 rubles should remain on the balance after the transfer. You can send no more than 200 rubles per day
Step 5
Service Help Out http://cell.motivtelecom.ru/ekb/services/b2c/help for those who have true friends. Send a request to a friend * 104 * 106 * subscriber number (with 8) # call button, after which he will receive an SMS message with the text: "Subscriber + 7XXXXXXXXXX asks you to top up his account", where + 7XXXXXXXXXX is your phone number.