A tablet is a multifunctional mobile device on which you can not only watch movies and listen to music, but also surf the Internet or read books. You need to download the latter, focusing not only on the genre and author, but also the format.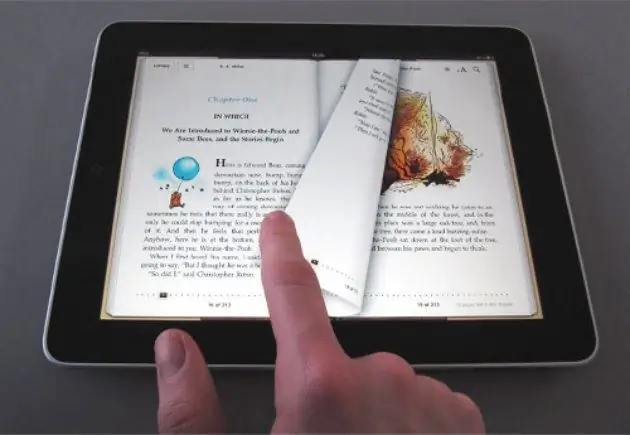 Instructions
Step 1
Via the Internet directly on the device. Depending on which operating system is installed on the tablet, you can download books through PlayMarket (for Android users), AppStore (for iOS users). In any of these stores, books are generally available for a modest fee. Free books online can also be downloaded. For example, owners of Apple products have a special application "iBooks" for this, where you can find almost any book for free. Users of Android gadgets can use free applications at PlayMarket. But the choice of books is significantly limited, since not so many were brought into the format of appendices.
Step 2
From computer to tablet. In this case, you will need special programs for reading on the device. For example, "FBReader" or "CoolReader". These "readers" support several formats at once: fb2, txt, epub, html, doc, rtf, pdb. That is, you can download a book in any format to your computer, and then transfer it to your tablet (for example, via Bluetooth or by synchronizing via a USB cable). Then on the tablet, you just need to open the desired file with a convenient application.
Step 3
Through the browser on the tablet. If the device connects to the Internet (and almost all tablets, with very few exceptions, are capable of this), then just go to any electronic library in the browser and download a book for the tablet there. The most popular is the "fb2" format, since books in this format take up little space on the device and can be opened by any reading application. The "doc" book format opens not only in reading applications, but also in various programs for working with documents. For example, "MaxOffice". Through such an application, you can read books in doc, docx, txt, rtf format.
Step 4
Through special applications. While Apple products have an "iBooks" application, where books can not only be read, but also saved to the device, then Android devices have other useful applications. For example, various online applications with the ability to read off-line. That is, you don't need to download the book itself. It is enough to download the application, find the necessary literature in it, save it in the "reading off-line" mode. After disconnecting from the Internet, the book will remain available for reading at any time. It is more expedient to search for such applications in the categories "books and reference books".