You can make very beautiful building blocks from bricks in Minecraft. Bricks can be made by melting clay in the oven, which is quite difficult to find in the game.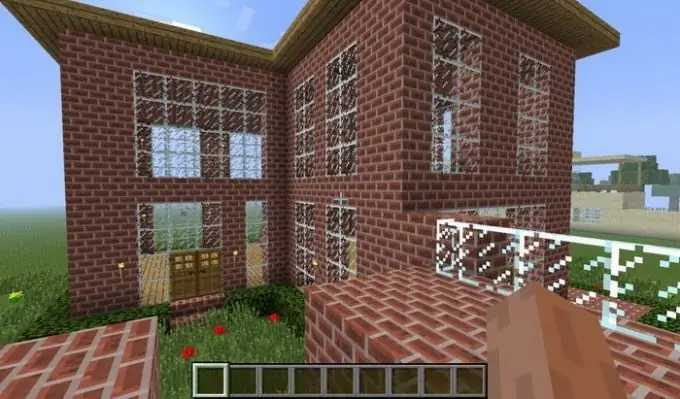 Clay mining
Clay is a rather rare resource, you can find it at the bottom of reservoirs, it is gray in color, but visually, out of habit, it is quite difficult to distinguish it from sand. It is best to extract clay with a shovel, this will be faster, since under water the mining process slows down several times.
Huge deposits of clay can be found at the bottom of the ocean, but to get it you need to use enchanted armor or use engine imperfections. A helmet enchanted with underwater breathing can be made using an enchantment table. It is best to use a gold helmet, as gold is much easier to enchant with a high level of enchantment.
If you do not have the opportunity to make an enchantment table for which you need to get obsidian and diamonds, you can use the regular door. The fact is that when the door is installed under water, an air bubble appears, which allows you to breathe under water for an unlimited time, so that during the extraction of clay you can either move with the door or constantly return to it for a supply of air. To illuminate the surrounding space, in order to distinguish clay from sand and generally navigate in space, you can use Jack's lamps, which can be made from a torch and a pumpkin. Such lamps do not go out under water and give a lot of light.
Making bricks
Having dug up enough clay, you can rise to the surface. For ease of transportation, out of four lumps of clay, you can collect blocks of clay right in the inventory in the crafting area (creating blocks), they take up much less space. From them on the workbench, you can get lumps of clay back by placing a block of clay in any cell.
To get bricks, you need to place lumps of clay in the upper cell of the stove, and coal or a bucket of lava in the lower one. After a while, you will receive bricks. To speed up the process, use several stoves at the same time, but do not go far from them, since "time passes" only in the area of the world where you are present.
From four bricks placed on the workbench or in the inventory window in a square, you can get a brick block. Fireplaces and beautiful houses are built from such blocks. On multiplayer servers, brick blocks are a very expensive resource, as mining clay is not easy and time consuming. Stairs and semi-blocks can be made of bricks.
In the latest versions of the game, when firing clay blocks in a kiln, you can get fired clay, which can be painted in different colors.