Skype is a communication program. It makes it possible to transfer not only text messages, but also allows you to make calls, conduct video conferencing. Moreover, several users can be present in the chat at the same time.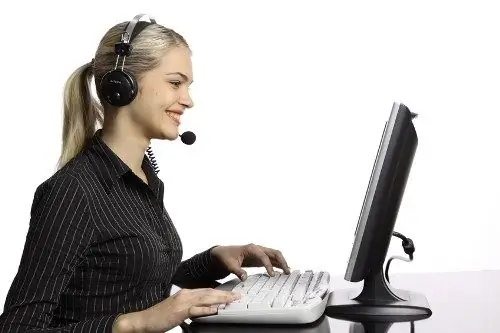 Necessary
- Skype program;
- Webcam;
- broadband internet;
- speakers and microphone.
Instructions
Step 1
If you don't have Skype installed, download it from here: https://skype.com. The program is distributed free of charge. Wait for the download to finish and complete the installation using the Skype Setap Wizard.
Step 2
After the installation is complete, the program will offer to register. Choose a unique Skype name from the suggested options, or create your own.
Step 3
Check the functionality of the installed program. When you open the program for the first time, you will see the contact "Skype Test Call". By calling the robot, you can test the operation of the headphones or speakers by speaking into the microphone. The robot will reproduce everything said. After making sure the sound is good, check your webcam.
Step 4
To see the image that another user will receive, go to the "Tools" menu, select the "Settings" line and the "Video Settings" item, then open the "General" tab.
Step 5
Check the box next to Enable Skype Video. In the right corner of the program, you will see your own image, but only if the program has correctly identified the webcam.
Step 6
If you do not see the images, reinstall the webcam driver. To adjust the position of the face in the frame, go to the "Webcam settings" menu. Here you can adjust brightness, contrast, saturation, and other parameters to improve the image transmission quality. All changes are immediately displayed in the picture.
Step 7
Before you start a video conference, add people to talk to. Find the "Add" button in the main window of the program, and the "Search" button in the window that appears. To find the right person, you need to know their Skype name or email address.
Step 8
The presence of a webcam at both ends of the "wire" is optional. You can also make calls to persons who do not want to connect it or do not have a webcam, while your interlocutor will see you, but you will not.
Step 9
To make a Skype call, just select the name of the interlocutor in the contact list, click on the green button with the handset, wait for the second party to answer and start video broadcasting.
Step 10
If you want the video broadcast to start automatically, check the box next to the corresponding item. To end the broadcast, just press the button with the red tube.