Among social networks, "My World" takes one of the leading places in terms of the number of registered users. The portal combines a whole network of useful resources and functions. It is both a blog service and a convenient tool for communicating with a functional search for people. Members of "My World" also have access to a dating site, file hosting and much more. But in order to take advantage of all the possibilities of the service, you need to register with My World.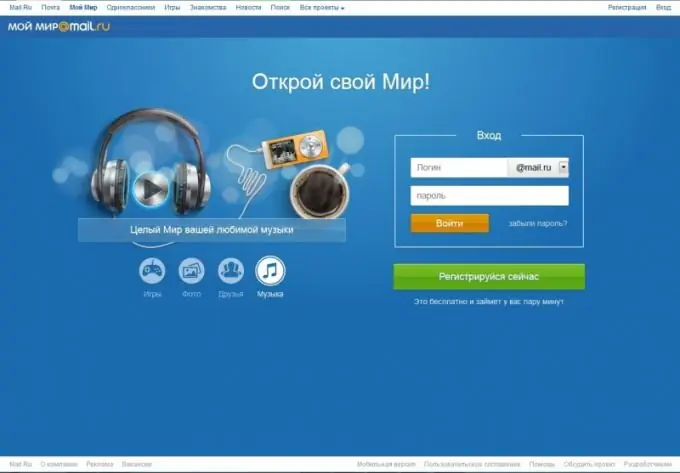 Welcome to my world"
Registration in the social network "My World" is free, but you will not be able to create your account without e-mail. After all, "My World" is one of the mail.ru services. Therefore, e-mail is required in this case. It should be remembered that you will also need to register and create a mailbox at mail.ru. However, if you wish, after the @ sign in your email address (login), you can use any domain: mail.ru, list.ru, inbox.ru, bk.ru.
After you go to your email, you will be prompted to create your own world. You can also find a link to the portal when you enter your e-mail. Take a close look at all entries on the top bar. You will need the Create My World button. Click on it and go to the registration page. To do this, you will need to indicate in a special line your personal data, first and last name, by which your friends and acquaintances can find you on the site, age. After that, you should press the "Create" button and go to the next page, where you will have to fill in a few more lines. In particular, you will be asked to indicate the city in which you live to make it easier for your friends to find, and the school where you studied. To search for fellow students, it is desirable to indicate your education. Here you can also indicate your friends. Then click the "Continue" button to go to the personal page of the "My World" service.
As you can see, registration on this portal is very simple and takes several minutes. After you create your own "World", proceed to its "filling". To get started, upload a personal photo so that your friends, colleagues, fellow students can recognize you by it. Then you can add an unlimited number of images, videos to your albums and feel free to start looking for friends, share your own thoughts, links, music and video files with site users.
If you have no mail
If you do not have your own email account yet, proceed as follows. Copy and paste the link http://my.mail.ru/cgi-bin/login?page=http%3A%2F%2Fmy.mail.ru%2F into the address bar of your browser to go to the "My World" creation page. To do this, click the "Register now" button located on the right, after which you will find yourself on a new page, where you will be asked to fill out the registration form. To do this, enter the necessary information in each field: name, surname, city, date of birth, gender, e-mail address (you will need to think of it first to check it), the password that you are going to use to enter the site and e-mail (you will have it the same). After that, all you have to do is click the "Register" button.
Optionally, you can link your account and email to your mobile phone number. This is necessary, for example, if your profile has been hacked, or you simply forgot your password. It will be enough to use the special link of the service and set a new password, for confirmation of which you will receive a special code on your phone, which is used for the password change procedure.