World of Tanks is a tank battle simulator from Wargaming that has won the hearts of hundreds of thousands of players around the world. And joining their ranks is not difficult at all.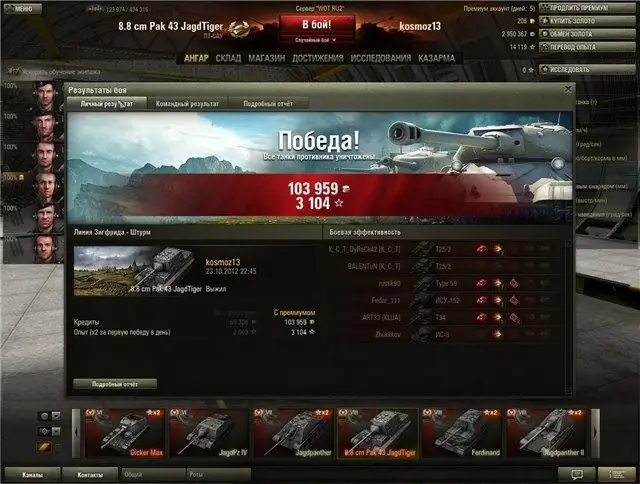 Necessary
Computer, internet, free hard disk space
Instructions
Step 1
Wargaming supports and develops several online projects at the same time, so about a year ago it created a unified registration and authorization system that works with all games at the same time. Now, in order to register in World of Tanks, you need to create a Wargaming.net ID on the company's website - for this you will need to specify an e-mail, the desired game name and password. If desired, registration can be accelerated using Facebook or Google+ accounts.
Step 2
After filling in all the fields of the registration form, a letter will be sent to the specified e-mail address containing a link to confirm the postal address. Follow this link - this is how you complete the registration process and activate your account.
Step 3
Log in to the game site. On the navigation bar at the top of the screen there is a "Game" tab - it contains links to download the game, guides for players, calendars of in-game events, a list of achievements and other information regarding all aspects of World of Tanks. Select the item "Download game" and click on the red button "Download game" on the page that opens. The download process of the game client will begin. After the file with the.exe extension is fully loaded, open it - the system will prompt you to select the location to install the game and decide on the creation of shortcuts in the Start panel and on the desktop of your computer. The program will perform all further steps to install World of Tanks on its own - it will install the client and launch a torrent session to download all other missing updates and files. After the update is completed, you can start the game.
Step 4
The main requirements for a computer to install the game are the operating system Windows XP, Vista, 7 or 8 (the recommended version is 64-bit), a processor with a frequency of at least 2.2 GHz (recommended - Intel Core i5), the amount of RAM from 2 gigabytes (the recommended amount is four or more), at least 16 gigabytes on a hard disk (the recommended amount is from 30 gigabytes) and a video card with 2 gigabytes of internal memory.