Mail. Ru Agent can be used both on computers running Windows or MacOS, and on mobile devices with any of the existing operating systems. The application's functions are not limited to the text messaging service and allow you to send SMS, make video calls and access the Mail.ru mail service.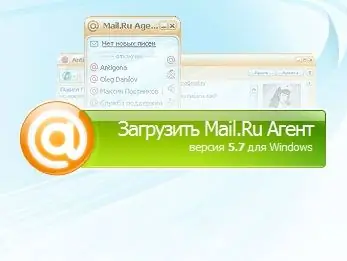 Instructions
Step 1
If you need Mail. Ru Agent to use it on your computer, go to http://agent.mai.ru, select one of the client versions (for Windows or MacOS), and click the Download Mail. RU Agent button. The program will be downloaded to your computer and all you have to do is install it
Step 2
If you are looking for Mail. Ru Agent for your mobile phone, then you have several options for downloading the Agent: 1. Download the application using the browser of your mobile phone.
2. Download the application to your computer and then transfer it to your phone.
3. Send a link to the installation file via SMS, after receiving which, you can immediately proceed to download from your phone.
4. For iPhone owners, the Agent can be downloaded via iTunes.
Step 3
If you decide to download the Agent using your mobile phone, enter the address in the browser http://agent.mai.ru. If the system has automatically detected your phone model, you will be immediately prompted to download the Agent. If no model has been identified, please select the version that matches your phone from the list and download
Step 4
If you chose to download using a computer, enter the address in your computer browser. http://agent.mai.ru, and then select and download the Agent version for your phone. Be sure you know how to transfer application installation files from your computer to your phone
Step 5
To send SMS, go to the "Receive by SMS" section. Enter your phone number and click the "Get" button. The option of sending a link via SMS is convenient because you only need to click one link in your phone to proceed to downloading the Agent. When downloading, your account will be charged for using the mobile Internet if you are not connected to a free wireless network.
Step 6
To download Agent to iPhone, iPod Touch or iPad via iTunes, select the Mobile Agent for iOS version. Click Install via iTunes and then Download. A page from the AppStore will open, where you can download the Agent using your Apple ID.