Cable standards adopted two sequences of distribution of cores in an RJ-45 plug: T568A and T568B. The difference in the distribution of the conductors in the plug is only in the arrangement of the orange and green pairs - the conductors of these pairs are reversed. Both the T568A and T568B distribution patterns are designed to minimize cross-hairs between pairs of conductors.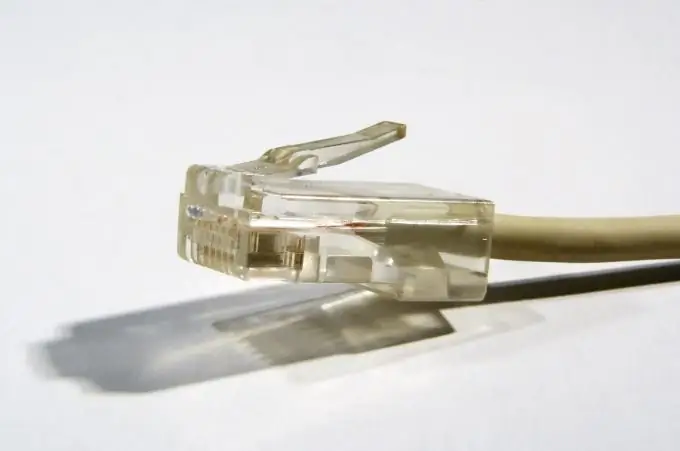 Necessary
RJ-45 connector, crimper (crimp tool), twisted pair
Instructions
Step 1
Pick up a crimper and twisted pair. Remove some of the insulation from the end of the twisted pair - about 3 cm.
Step 2
Untwist the exposed wires according to the pattern you need. Most often they use the T568B scheme. The sequence lived in it as follows: White-Orange, Orange, White-Green, Blue, White-Blue, Green, White-Brown, Brown.
Step 3
Then the cores must be aligned, try to squeeze them as tightly as possible and use a crimper knife to remove the excess conductors, leaving about 1 cm untwisted.
Step 4
On the aligned cores, carefully put on the connector, check if all the cores are in the correct order and if they are all pushed in to the end of the grooves intended for them. The cable insulation should also extend beyond the retaining latch and also reach the stop.
Step 5
Insert the connector all the way into the corresponding connector on the crimper and firmly squeeze the instrument handles until the cable lock clicks into place. Next, remove the connector with the already crimped cable from the crimper and once again visually check the correct sequence of cores, as well as whether they reach the end.