In Minecraft, you have to perform a lot of different game tasks: to extract resources, construct buildings (first of all, dwellings), fearlessly fight monsters that threaten your life, grow crops and animals, etc. However, you will not be able to accomplish all this without creating various items that can be useful in the gameplay.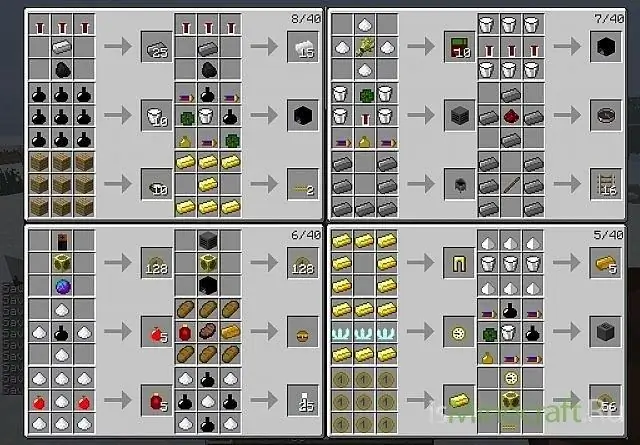 Necessary
- different materials
- crafting table
- crafting recipes
Instructions
Step 1
This process in Minecraft is called crafting. Without its foundations in the game, you will not even be able to survive the first night - you will fall victim to insidious hostile mobs, because you will have nothing to defend against them. As you progress successfully in the gameplay, you will get new interesting blocks and, if you know the appropriate recipes, you will find their optimal use. However, first, remember a few basic things, without which the creation of various objects is not feasible.
Step 2
Crafting is impossible without the availability of certain resources - ores and other blocks and entities. A specific set of ingredients is indicated in the recipe for creating certain things. At first, until you remember how to craft at least the most common items, keep recipe lists at hand. Thanks to this, you will set for yourself the priorities for the extraction of materials - which are needed from the very start of the gameplay, and which ones should be postponed.
Step 3
Get some wood in the first minutes of the game. Chop it with your bare hands before you create an ax or other suitable tool. Make boards out of them - in a special two-by-two grid available in your inventory. Then build a workbench out of four of their blocks in the same place. Without it, you will be deprived of the opportunity to craft a significant part of the items necessary for the successful completion of game missions. Place it in your home (when you have time to build it during the gameplay) or another convenient place.
Step 4
Be careful when placing ingredients in the slots of the workbench when creating any item you need at a particular game moment. Many recipes require a strictly defined order of items in the crafting grid. If it is violated, either nothing will succeed at all, or it will turn out absolutely not what you expected. Only in a number of cases is some deviation from these principles allowed (for example, when creating a hoe, scissors, flint and several other items).
Step 5
When you need a large number of certain things at once (in particular, torches, which are never many), place the required number of ingredients in the corresponding slots of the workbench or 2x2 grid in your inventory, and then hold down "shift" and click on the result icon. You will have as many items as possible. Stack them up to save inventory space - it's pretty limited. With an excess of resources, craft chests and store items that are not needed at the moment there.