War and Peace, also known as Knights & Merchants, is a popular strategy computer game. Thanks to high-quality localization and addictive gameplay, it has won many fans. The online game mode allows you to compete with other players and significantly improve the gaming experience.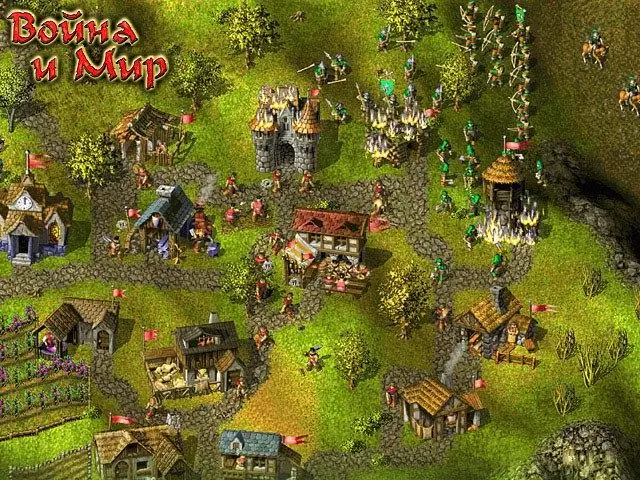 Necessary
- the game "War and Peace";
- two or more computers connected to a network.
Instructions
Step 1
Install the game on your computer and launch it. In the main menu window that appears, click the "Multiplayer" button
Step 2
Next, you need to choose between two game modes. In 2012, it will be 14 years since the release of the game, so developer support has been discontinued and play on Net-Games servers is no longer possible. Therefore, we select the "Local network play" mode
Step 3
Enter a name for identification. This name will be visible to other players during the network session. The default is "NoName", replace it and click Continue
Step 4
On the next screen, you need to select the type of local network. Press the "+" button several times to select the "TCP / IP for DirectPlay" mode, as shown in the figure. In some versions, this inscription may not be translated, but this does not affect the functionality. Click on the "Create Game" button to become the host of the game
Step 5
The next step, the game will ask you to choose the name of the game session. By default, it will be formed from the name you entered for identification. Rename the session so that there are no Russian letters in the name. This will have a positive effect on the stability of the game. Click "Start Session"
Step 6
The screen for configuring multiplayer settings appears. Choose the color your units will wear. Determine the starting property and position of the players, as well as the type of "scenario" card
Step 7
Repeat steps one through three on the second computer, providing a different name for identification in step 2. Select the LAN type "TCP / IP for DirectPlay" and click the "Join Game" button. In the window that appears, enter the IP address of the host player's computer and click "Ok"
Step 8
Select a session from those displayed in the list and click "Join the game"
Step 9
On the next screen, click on any empty cell to take part in the game. You can also choose your preferred color for the game units
Step 10
Return to the lead player's computer. Note that there are now two names in the player roster. Start the game by clicking the "Start" button.