In fact, Avito's bulletin board today is a monopolist in its field. This happened after the merger of Avito with the message boards olx.ru and slando.ru, once the closest competitors. Millions of unique visitors every day place ads on the site. In order to place an ad on "Avito" for the sale of any things or services, you need to go through a simple registration.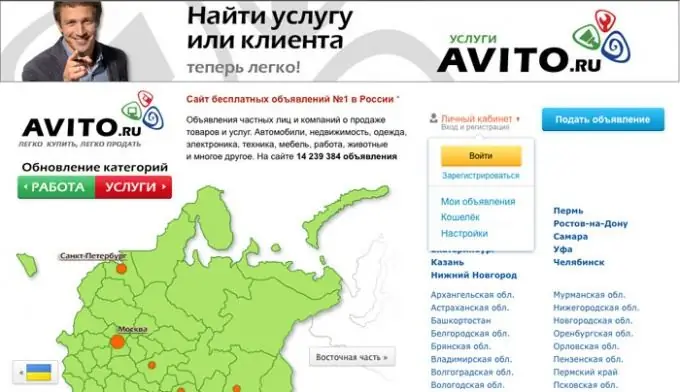 Instructions
Step 1
It will not work to submit an ad to Avito without registration, but this stage should not embarrass anyone, because the procedure itself is simple and will not take much time. In addition, registration on Avito is free, which generally removes all doubts about its necessity. You can register for Avito by first reading the user agreement.
Step 2
On the main page of avito.ru in the "Personal Account" select the section "Register". The process can even be somewhat shortened by going straight to the address avito.ru/registration.
Step 3
Next, you should indicate how you register - as an organization or as an individual.
Step 4
Then the columns will appear in which you will need to enter the name, email, cell phone and, of course, the password. You will need to confirm the password, then enter the captcha (text from the picture). If the symbols are too merged and difficult to parse, then a new captcha will be provided to you after clicking the "Another picture" link.
Step 5
It will be possible to continue registration on Avito only if you are familiar with the user agreement. You should not approach the issue purely formally, as this will avoid blocking for violation of the rules. If you have read it and agree with everything, click "Register".
Step 6
Next, you will be asked to confirm registration from the specified email address. Find the letter from "Avito" in it and follow the link provided.
Step 7
When registration on Avito is confirmed, a report will appear and a proposal will either go to your personal account, or immediately start submitting an ad.