Drawings from emoticons are popular in chats, forums, social networks, that is, wherever it is customary to express emotions using pictures. It is not difficult to learn how to draw with emoticons in Skype, especially if you have free time and a friend who will immediately appreciate the online creativity.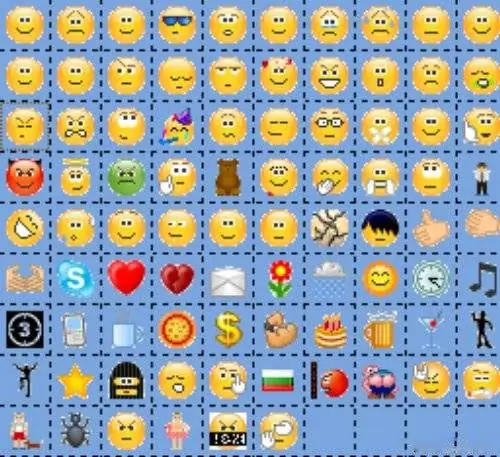 It is necessary
Instructions
Step 1
Draw a picture with Skype emoticons in the chat field. To do this, expand the field in width, set the "Default" settings. Choose a size 9 font Tahoma.
Step 2
Determine the width of the pattern, usually an odd number of cells. Start creating a drawing with Skype emoticons on top. Fill the background with neutral emoticons, mark the contours of the picture with bright images.
Step 3
Skype emoticons are subdivided into hidden ones and those that are freely available. After you practice drawing pictures with accessible emoticons, add hidden ones to them, which are indicated by English letters and words, as well as symbols enclosed in brackets. Hidden smilies can be found on the internet.
Step 4
Open notepad or any other text editor. Create a drawing from the lettering of emoticons, observing the lines and rows of the picture. Copy the entire set of letters and symbols, paste it into the Skype chat field, send it to your interlocutor to see the result yourself.
Step 5
In the event that you find it difficult to draw with emoticons in Skype, use the ready-made drawings. Find them on the Internet for "Skype emoji drawings". Copy the code of the picture and paste it into the chat field.
Step 6
Find free picture editors on the Internet where you can create any picture on a special canvas. In the editor, in addition to the field, the minimum size of which is 5x5 cells, there is a set of emoticons, both available and hidden.
Step 7
Select the desired emoticon and place it on the canvas. Use the Fill function to change the background of the canvas. Draw a line or from the same emoticons by double-clicking on the arrow indicating the vertical or horizontal. To cancel the last action, use the corresponding button.
Step 8
After creating and editing the picture, click on the "Get code" button. Hover over it, copy and paste the code into the chat box in Skype. After sending the message, you will see your drawing.