A large number of bookmarks in your favorite browser can create certain inconveniences in working with the Internet. The list of bookmarks can be edited at any time by removing unused links from it.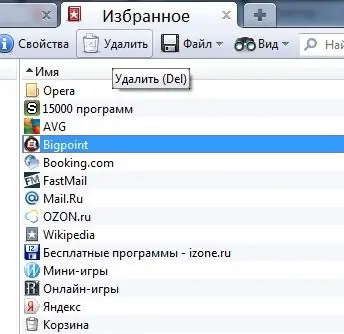 Instructions
Step 1
To remove unwanted bookmarks in your Internet Explorer favorites, click the Favorites button or press Alt + X. In the menu that opens, select the link, right-click on it and select the "Delete" command.
Step 2
To edit your favorites in Google Chrome, click the wrench button and open the Bookmark Manager menu item. On the browser page that opens, right-click on the bookmark that you do not need and select the "Delete" command from the context menu.
Step 3
In the Oper browser, press the "Menu" button and select first the "Bookmarks" item and then "Manage bookmarks" or use the shortcut keys Ctrl + Shift + B. A browser page will open in front of you, where you can edit your favorites. Select the link and click the trash can button to delete the bookmark.
Step 4
Removing unnecessary links from favorites in the Mozilla Firefox browser is carried out through the Firefox menu. Select "Bookmarks" and then "Show all bookmarks". Select unnecessary links in your favorites and right-click and select the "Delete" command.