While playing an online shooter, the user has the opportunity to take part in team battles together with other players. The gamer can choose any weapon and join the battle.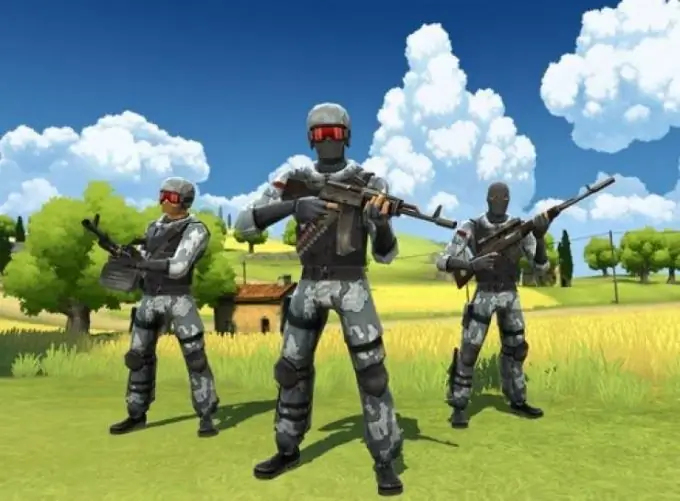 Instructions
Step 1
Team Fortress 2 (2007) is the sequel to the acclaimed Team Fortress series, an online first-person shooter. In the sequel, the game revolves around two factions - red (RED) and blue (BLUE). They are waging a long war over territory. The player will have to take either side, choose one of 9 classes and start the battle. The game stands out for its unique atmosphere of fun and madness. The graphic part is made in a cartoon style. During the battle, the player can get various things, such as new guns, hats and other equipment. These items provide some bonuses (for example, increased damage). There are no dominant character classes in Team Fortress 2, as the emphasis is on team play.
Step 2
PlanetSide 2 (2012) is an online computer shooter created by Sony Online Entertainment. The player will have to go to the planet Auraxis, where three main factions are waging an endless war for the land. Many users have recognized PlanetSide 2 as the largest shooter ever. On one map, thousands of players, both on the ground and in the air, can simultaneously fight for territories. Each user can choose any side and class, which can be further changed. The game boasts not only epic battles, but also superb modern graphics.
Step 3
CrossFire (2009) is a first-person shooter created by Neowiz Games. The game's plot revolves around two opposing squads - Black List and Global Risk. The player's goal is to choose one of the sides and take part in the confrontation. The user has the opportunity to create a unique character using the selection of weapons and armor. Equipment can be purchased for in-game currency or real money. CrossFire has a wide variety of modes. For example, in the "zombie" mode, players will have to unite in order to resist the bloodthirsty ghasts who seek to infect all players with a deadly virus. In the "battle of ghosts" mode, all players become invisible, and they only have a knife from their weapons.
Step 4
Battlefield Heroes (2009) is an online tactical shooter. The player will have to choose one of two sides - the National or the Royal Army. In addition, you must select the class of the fighter (saboteur, soldier or machine gunner). After that, the player can choose any mode and go into battle. You can fight both on the ground and in vehicles (jeeps, tanks, planes, anti-aircraft guns). You shouldn't take the game seriously, as the graphics in it are animated. There is an atmosphere of madness and fun around.