A new development has appeared in the Chrome product line from Google - Web Lab. Now users will have the opportunity to virtually get acquainted with the Science Museum in London, moreover, to be interactive with the objects of the museum's installations. Now you can try the innovation at chromeweblab.com.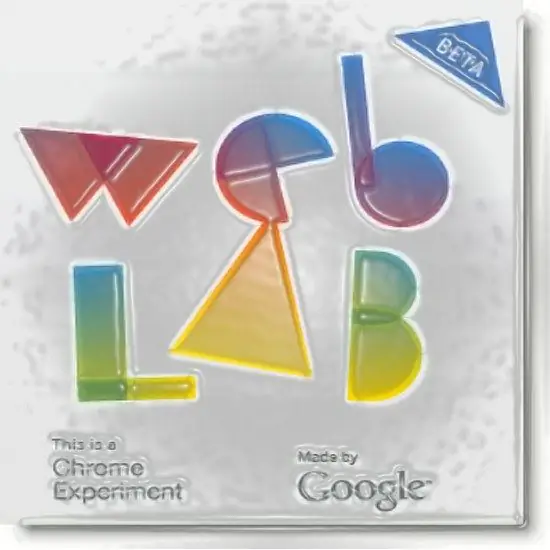 The exhibition at the Science Museum consists of five exhibits. Website visitors can interact with these exhibits in real time. Before visiting the site, you must be sure that your video card and browser support WebGL technology. The main browser that works with this technology is Google Chrome, you can also use FireFox and Safari. In case of non-compliance with the technical requirements of the site, you will be notified of this on the main page. If everything is ok, go in and choose the item you are interested in.
The main goal of the Chrome Web Lab project is to demonstrate to users the modern possibilities of digital technologies and inspire them to create new projects.
The simplest technologies are Lab Tag Explorer and Data Tracer. The first shows the number and location of laboratory visitors, the second is for searching files.
The Universal Orchestra is an exhibit using WebSockets technology. You can hear a virtual concert played in the museum by means of robotic instruments controlled by people from different countries of the world. To be able to create your own melody, you will have to wait a while, as there are quite a few people who want to experiment.
With the Sketchbots exhibit, you can order a photo of yourself for a robot manipulator. To do this, you need to take a picture from the webcam, upload it, then click Submit. The robot will execute your portrait in the sand, after which your image will be erased so that you can work with other users.
With the Teleporter exhibit, you can "teleport" to locations around the world, such as a café in North Carolina or a marine aquarium in Cape Town. Of course, teleportation is purely digital, you can only get a panoramic image from webcams located in different parts of the Earth.
The project will presumably be available until June next year.