An ordinary typewritten sheet of paper has dimensions of 210x297 mm. It is known as the A4 standard. When working in a text editor Word, if necessary, you can change the page size to the one that is currently needed. This operation in all versions of the text editor is done in approximately the same way.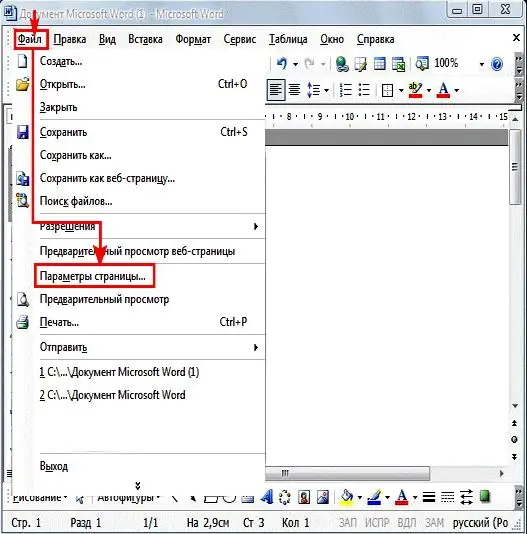 Necessary
Personal computer with Windows operating system and one of the versions of the text editor Word
Instructions
Step 1
Go to the menu item "File" and find the line "Page settings" in it. An editor dialog box will open. In Word 2003, select the Paper Size tab in this window. Some other versions of this editor immediately provide the ability to set the paper size. Look there for a list of the most popular paper sizes. Choose the size that suits your particular occasion. If you need a special paper size, set it on the pointers in the open "Paper size" window, in the "Width and Height" fields. Depending on the settings, these parameters are set in centimeters or millimeters.
Step 2
If the document has already been pre-typed, and it is being edited, in the Apply list select the lines "To the whole document" or "To the end of the document". In the first case, the set paper size will be applied to all sheets of the document, and in the second case, from the current page (on which the cursor is currently located) to the end of the document. In the event that the document is divided into sections, you can select the paper size for the current section. Change the page layout from portrait to landscape or vice versa in the same way.
Step 3
When printing on custom paper, this is the size that you must load into the printer. Modern printers can even tell if the wrong sheet size is loaded in them, which is indicated in a text editor, this will help to avoid wasting paper. View a sample page in the dialog box as you select. It will display its layout, which reflects all the main parameters of the future page. To print envelopes, do not change anything in the paper size settings. There is a separate function for this in the Word 2003 editor. In other versions of Word, the resizing of paper is similar.