Steam is a distribution service for computer games and other software developed by the American company Valve. Steam is a hybrid of an online store with a digital delivery system and a social network designed for interaction between players. To start playing using the service, you need to perform a number of simple steps.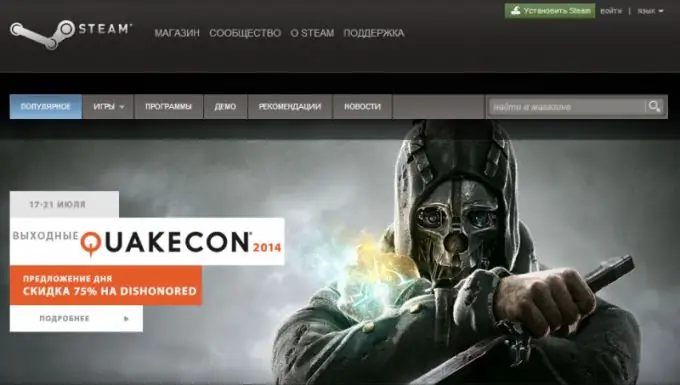 Instructions
Step 1
The first step is to download the Steam client to your computer. To do this, go to the official website of the service. It is located at the following address: http://store.steampowered.com/. Then click on the "Install Steam" button in the upper right corner of the loaded page. Then repeat clicking on the same button on the next page that opens. After that, the download of the client to the computer will begin.
Step 2
Now you need to install the client program on your computer and create an account on Steam. Run the downloaded file and follow the instructions of the installer. At the end of the installation process, click on "Create a new account" and again follow the additional prompts.
Step 3
When the Steam client is installed on your computer and connected to your account, you can start choosing products. If you are interested in specific games or software, you can use the search box. In other cases, a well-thought-out catalog is available to the visitor.
Step 4
After a suitable game or program has been found, you can proceed to purchase. To do this, click on the "Add to cart" button under the full description of the product of interest. If suddenly such a button is not displayed next to the name of the game or program, click on it with the mouse. On the next page that opens, select "Buy for yourself".
Step 5
Decide on a payment method and make a payment. Steam cooperates with such electronic payment systems: WebMoney, PayPal, JCB, Discover, American Express, Visa and MasterCard. Pay for the game using one of the listed services.
Step 6
After transferring money, install the purchased game or software on your computer hard drive. This can be done through the "Library" section of Steam. When the files are installed, the game can be launched in the same section of the service using the "Play" button.