To use the Play Store, you must first create a Google account, which will allow you to download the necessary information to your phone. The created account is linked to the Gmail account and associated with other services provided by the company.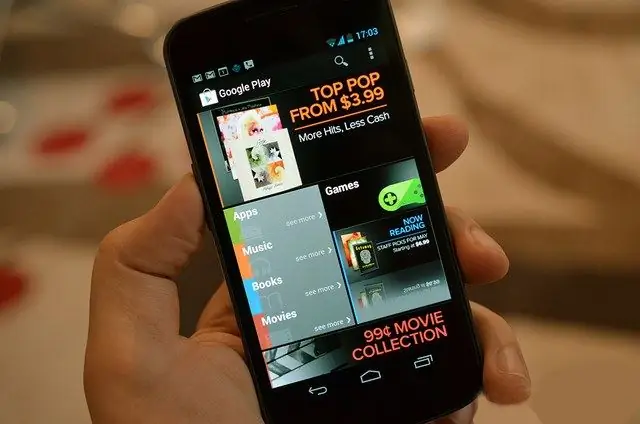 Create account
Go to the device menu in the "Settings" section. In the "Accounts" section, click on the "Add account" - "Google account" button. A menu will appear in which you will be prompted to use an existing Google record or create a new account. Click the Create button.
Enter your first name, last name and the desired nickname, which will be used by you as a username and password to enter the Gmail service, as well as a name for the future e-mail box. Click "Next" and set the desired password. It is important that the combination of letters and numbers is at least 8 characters long. Having come up with a password, confirm its entry in the "Confirm password" field. You may also be asked to select a security question that will help you restore access to your account in case of data loss. Additionally, you can specify the e-mail you are using, to which, in case of anything, you will receive all the necessary information to use your account.
When you finish entering the information you want, select your data sync options (sync contacts or mail with your phone account) and tap Done. The account creation is complete. You can use the new account to download applications to your Android device.
Installing Applications
Go to the Play Store. If this is your first time launching the application on your Android device, accept the terms of use for the application and click Next. You will see a list of categories in which you can find the program you need to download. You can also search by app name. The function is available in the upper right corner of the screen. Once the program you want is found, click the Install button and then Accept to allow the download.
Once the installation is complete, the application shortcut will appear in the main menu of the device and on the desktop. If you want to view a list of all the programs you have installed, go to the "Play Store" and click on the context menu item "My applications", which will appear after pressing the corresponding menu button on the screen or the bottom panel of the phone.
If you want to purchase a paid application in the Play Store, after clicking on the installation button of the program, you will be prompted to link your existing bank card. To make a payment, enter the data in the appropriate fields and then confirm the transaction. If the payment is made, the installation of the application will begin, after which you can launch it.