In many European countries, Internet TV is as widespread as conventional TV. This is explained by the fact that Internet access in these countries is carried out mostly through broadband channels and at high speed. However, despite the fact that broadband access is not yet so widespread in Russia and the CIS countries, online television is already quite popular.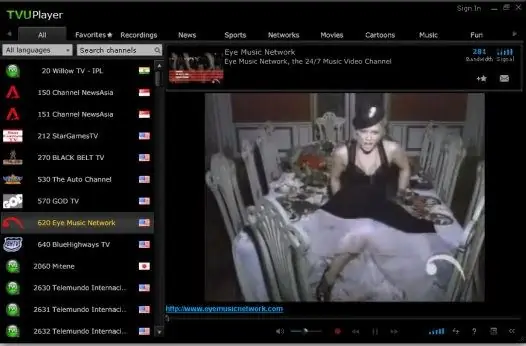 It is necessary
- high-speed internet access;
- a computer with a compatible video card;
- plugins for watching videos on the Internet.
Instructions
Step 1
Before you fully enjoy the convenience of Internet TV, be sure to check that your computer and Internet connection meet the minimum specifications. So, for comfortable viewing of TV programs via the Internet, it is recommended to have a connection speed of at least 1 Mb / s. Otherwise, you will have to wait a very long time for video caching or watch TV program intermittently.
Step 2
Check that you have all the required codecs for watching TV over the Internet. Typically, most online TV channels broadcast via a plug-in from Adobe, however, there are also less common plug-ins, such as Microsoft's Silver Light.
Step 3
After you have checked your internet connection and plugins, select the channel (s) you would like to watch. You can find the desired channel using search engines, or simply pay attention to the moment when the channel's website is called on ordinary television. On such a site, you can usually not only watch TV programs that are currently running, but also view archived recordings of TV programs.
Step 4
Use an aggregator site if the purpose of your search is not the programs of one TV channel, but all the TV programs that you watch on TV. On such sites, you can watch not only Russian, but also most foreign TV channels.
Step 5
Download and install on your computer the client application that most aggregator sites offer. The software offered to download has advanced functions for watching and recording Internet TV programs. For example, you can record your favorite TV shows on schedule.