A browser is a special program that is designed to load and display a web page on the screen. Previously, browsers only performed this function. Now browser versions are constantly being updated, and they have much more features.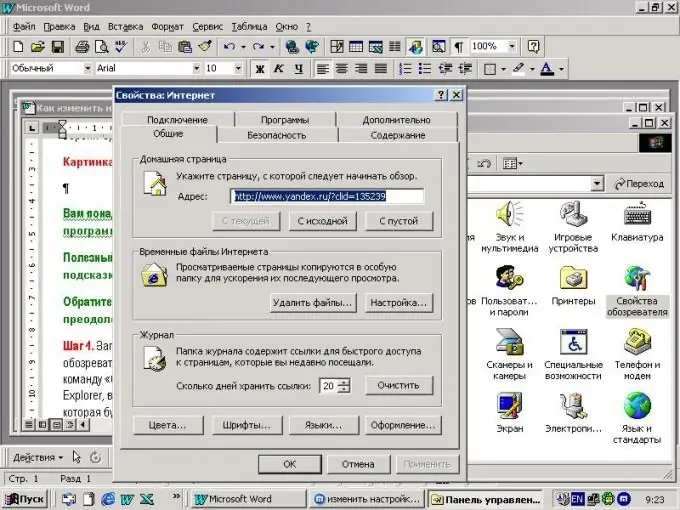 Necessary
- a computer with Internet access
- browser
Instructions
Step 1
Launch Internet Explorer browser. Go to the menu item "Tools", select "Internet Options". Also, this item can be opened without going into the browser. Open the start menu and select the "Internet Options" command. This window has several tabs. To change Internet Explorer settings, select the desired tab. In the "general" tab, set the home page. This is the page that will automatically open when you open your browser. Delete temporary files by clicking on the corresponding button. This is done to free up disk space. Next, change the settings of the Journal. The journal stores links to sites that have been visited by the user. Set the number of days that the browser will keep these links. By default, this value is 20 days.
Step 2
Change the visual appearance of the displayed pages in Internet Explorer using the "Colors", "Fonts", "Appearance" buttons. Apply the user appearance style, to do this, click the "Appearance" button, check the "Styling using the user style" box, then click the "Browse" button and select the style file from your computer. Restart your browser to change Internet Explorer settings.
Step 3
Go to the "Security" tab and select the security level for different zones of the Internet. Change your media display settings in the Advanced tab. Uncheck or check the boxes to display videos, animations, pictures on web pages. Click on the "Connection" tab to configure your Internet connection settings. Go to the "Programs" tab and set which programs the browser will launch by default for email links, newsgroups, HTML editor. Restart your browser for the new settings to take effect.
Step 4
Launch Mozilla Firefox if you have it installed. To change the Mozilla Firefox settings, select the "Tools" menu, there click on the "Settings" item and select the desired tab (network, optional, tabs, general). For example, to configure the program's connection to the Internet, go to the network tab and click the "Change local network settings" button.
Step 5
Open the Opera program to change the Opera settings, go to the "Settings" menu, select the "Tools" item or press the key combination Ctrl + F12. Go to the "Advanced" menu item to configure the browser navigation settings on the Internet, configure the network, fonts and cookies.