The virtual world is a three-dimensional virtual page that can look like a room and can be filled with whatever objects you want. Let's consider the process of creating this product using the example of the Virtual Home Space Builder program.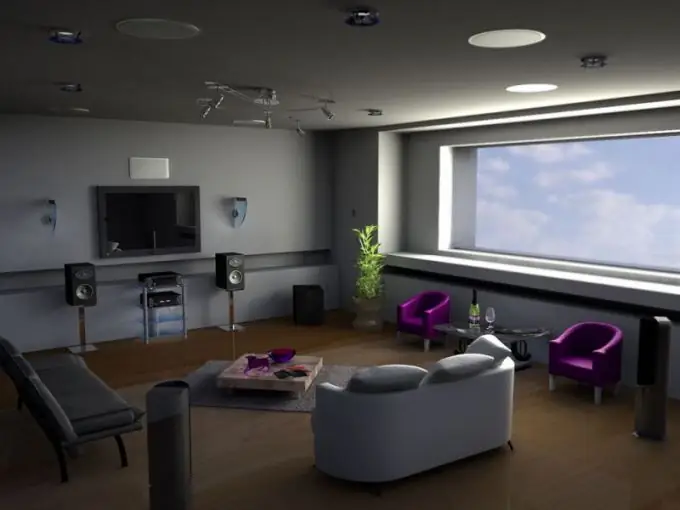 Instructions
Step 1
Create a 3D skeleton of your room using VHSB tools. To do this, go to the "Builder" panel and select the "Box" icon. Place the cursor on the area intended for your virtual world and click on the left mouse button to fix the frame. Using the Scissors tool to create the space of the room, cut out the area inside the frame, and then click on the left mouse button. Set boundaries for the floor and ceiling, and then install the windows. Mark them on the general plan of the house.
Step 2
Use the Select Picture Directory control panel to color the textures created in the previous step. Select the Spray Can, then define the paint for your space. Paint the surface for which it is intended by dragging paint onto it. You can also use graphics files as textures for walls, floors and ceilings. In this case, click on the "Wallpaper" tool, then select the picture you need. Use the Gradient tool to edit the image. After that click on "OK" and on the Door icon. Click on the D icon to go to the Wallpaper Detail menu. Activate the Tile button, turn on the Slide Direction option. Set the dimensions of the images used as textures using Tile Width, Tile Height, and Offset. Click on OK.
Step 3
To link objects to the Web, hover the cursor over the Camera Lens icon and drag it to the object you want to link to the Web. After that select the Select Object tool. Click on the Attachment Editor icon and in the dialog box on the Function field. Select Link to URL and then enter the full site address. Click on OK.
Step 4
You can also add sounds to objects. To do this, select the object with which you want to associate a certain sound, and click on the Select Object button, and then on the Attachment Editor. Check the Play Sound option, then attach a wav file that will become the "voice" of the object. In the future, in order to hear the sound of an object, it will be enough to double-click on it in the virtual room.