Magicka is an adventure computer video game that tells the player the story of several magicians. In the game, you can combine various spells, thereby obtaining a much powerful, powerful spell.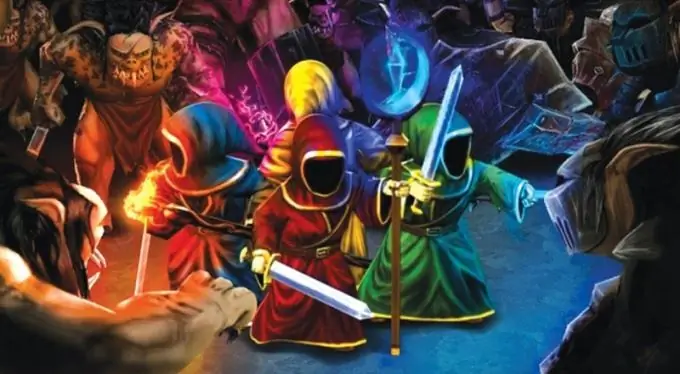 Magicka
The game Magicka itself tells the story of four novice wizards who fight against an evil magician and a demon who decided to destroy the whole world. Magicka is based on Norse mythology, with a huge variety of different references to other games, such as the Diablo series, Warhammer, World of Warcraft, etc. As for the gameplay itself, for some it will be what is called "a wonder". It is not difficult to control the characters, but for a successful and comfortable game, you should combine various spells, thereby gaining new or stronger skills. The gaming company consists of 12 fairly large levels. Unlike most modern RPGs, Magicka does not have character classes. Each of the characters under the control of the player has a magic staff and melee weapons.
In order for the player to be able to combine various spells, the developers took several elements as a basis, these are: water, fire, cold, lightning, earth, shield, magic and life. Most of these elements are in one way or another consistent with each other (according to the laws of physics), but there are also those that are simply absorbed by each other. For example, the combination of water and fire creates a new element - steam, and the combination of water and cold - ice. As you might guess, in the computer game Magicka, almost everything is based on knowledge of physics, but there are also spells that were invented by the developers themselves.
Calling meteor shower
Thus, it turns out that sometimes, combining seemingly incongruous, in the game you can get a completely unexpected result. For example, the player can summon enhanced healing (water + healing), improved mines (steam + steam + shield + healing + fire), and even a meteor shower. Meteor shower, as you might guess, will not get at random. This can only be done if you purchased the Magicka game before January 31, 2011 and received the Survival Kit DLC add-on.
In all other cases, it is simply not possible to cause a meteor shower. It is called as follows - the key combination F + D + F + Q + D + F is pressed on the keyboard, after which it remains only to point to a certain area that will be hit by the meteor shower. This spell can be used almost at the very beginning of the game, after you study the book of resurrection and haste. As you progress, you will receive new books, thanks to which you can receive and summon the most difficult and powerful spells.