TCI, or thematic Citation Index, is a special rating of sites that assigns points to resources depending on the sources referring to them, similar in subject matter. The TCI model was created and is used by the Yandex search engine.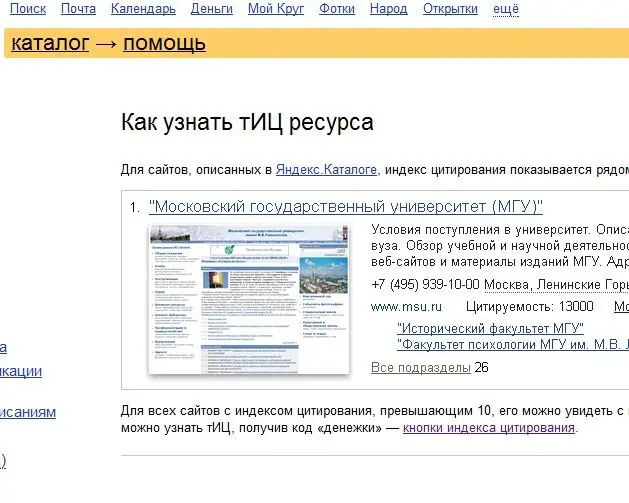 Instructions
Step 1
By default, all sites added to the Yandex search engine through the Webmasters panel have a TCI = 0. Having at least 10 links from thematic sites with TCI = 10, the resource automatically receives the same TCI without prejudice to donors. The mechanism for assigning a thematic citation index is constantly being improved, and its formula is constantly changing. Typically, Yandex's TCI is updated once every 25-40 days. The TCI value is always divisible by 10 and has a similar step. This means that there are levels of TCI 0, 10, 20, 30 and so on. A citation index value of more than 1000 is considered a very high indicator. Sites with a high TCI are collected in a special Yandex "Catalog". Sites with a high citation index can make money on advertising, and most importantly, on links, because referring to other sites, they transfer the TCI to the customer of the advertising link. The higher the donor's TCI, the higher the cost of placing a direct link to another resource. However, the site administrator sets the price himself, and sometimes he may refuse to provide such a service as placing paid links.
Step 2
You can find out the TCI with the help of site-tools for web developers and site builders. For example, some of these resources
Step 3
You can also find out the level of TCI in a special section of Yandex, located at the address: banner with a number. This number is the site's TCI.
Step 4
You can also download a browser plugin called Yandex. Bar. It automatically detects the TCI level of any site loaded through the browser. You can download the branded plug-in on the official website of "Bar":