In many situations, additional equipment is used to create a local network. In the event that the provider provides DSL Internet services, it is customary to use a modem.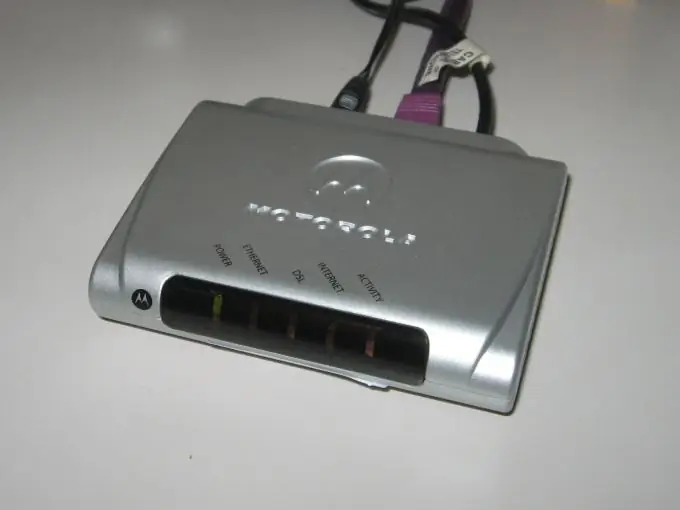 It is necessary
DSL modem, network cables
Instructions
Step 1
First, choose a DSL modem that will suit the specifications of your laptops and computers. Naturally, it is better to use a device that supports the function of creating a wireless access point. Purchase your chosen modem.
Step 2
Connect the equipment to the mains and turn it on. Connect an internet cable to the DSL port. Find a LAN (Ethernet) channel in the device and connect a laptop or desktop computer to it using a network cable.
Step 3
Turn on your computer and launch your browser (better to use IE, Opera or FireFox). Enter the IP address of your DSL modem into the address bar of your browser. You can find out the standard IP address, login and password for accessing the settings in the instructions for the device.
Step 4
The main menu of the modem settings will be displayed on the screen. Go to the Internet Connection Setup menu. Set up communication with the server. You can find more detailed instructions on the official website of your provider.
Step 5
To create a wireless Wi-Fi hotspot, open the Wireless Connection Setup menu. Set the wireless network settings that the adapters of your laptops (phones) will work with.
Step 6
Save the settings changes. Reboot your DSL modem. If this function is not in the menu, then disconnect it from the mains for a few seconds.
Step 7
Connect desktop computers to the LAN (Ethernet) ports. Activate laptops to search for available wireless networks and connect to your hotspot.
Step 8
You may need to change your network connection settings. Open the network adapter settings of your laptop or computer. In the properties of the TCP / IP protocol, specify a static IP address that differs from the modem's address by the last value.
Step 9
Enter the IP address of the modem in the Preferred DNS Server and Default Gateway fields. Repeat the settings for all other devices on the network.