Machinarium is a cross-platform adventure game, also known as a quest. Machinarium is available for mobile devices, consoles and personal computers. The game was developed by the Czech independent studio Amanita Design.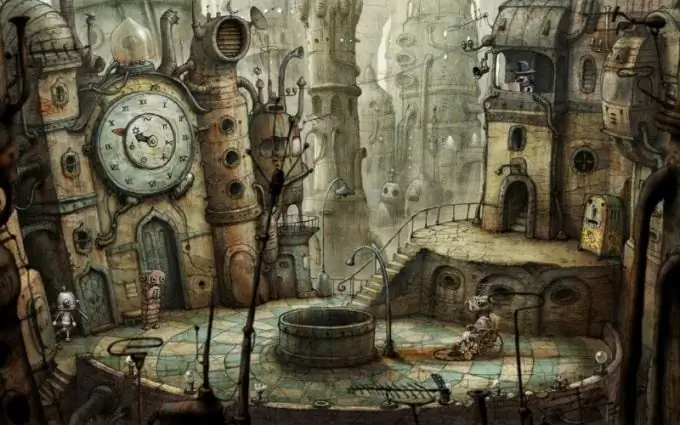 Brief description of the game
The invented environment in which the quest takes place visually resembles a post-apocalyptic setting, but devoid of the characteristic depression. The plot takes place in the Machinarium, a city of robots on a planet that in the future serves as a technical dump for human civilization. Local locations are made in gray-brown tones. The landscapes are represented by heaps of various metal parts scattered among the desert fields of the planet, some of which make up the local architecture. The original comedy-melancholic visual style together with atmospheric music evoke a positive mood.
Quirky cities are inhabited by funny robots, seemingly sloppily assembled from a variety of parts. One of these artificial creatures is a player-controlled main character named Josef.
The Machinarium is a point-and-click quest. The display shows, among other elements, interactive objects or characters with which the player can interact. When you hover the mouse cursor over any of these objects, the latter is selected in a certain way. After the click, this or that action takes place, which necessarily has its consequences for the main character.
The narration is carried out mainly through the visualized in the form of "clouds" memories of Joseph. Thus, the motives and goals of the protagonist are conveyed to the player.
The author of the plot and concept of the Machinarium game world is Jakub Dvorski, founder of Amanita Design. Thanks to the cooperation of developers with the publishing company "1C-SoftKlab" and the localizer Snowball Studios, the computer version of the game has been translated into Russian and officially published in the CIS countries.
Where to download and how to run Machinarium?
As stated above, Machinarium is available for most platforms: Windows, Linux, Mac OS, PlayStation, iOS and, of course, Android. Obviously, each operating system needs a corresponding version of the game.
To install Machinarium on a personal computer, the easiest way is to go to the official site of the game: http://machinarium.net/. Here they give the opportunity to try the demo version completely free of charge directly in the Internet browser. If you like the game, you can buy and download it directly from here to your PC.
Owners of PlayStation consoles can find Machinarium in the PSN online store and download it after payment. Similarly, the game can be downloaded by iOS and Android users using the AppStore and Google Play services, respectively.