Online stores offer a wide range of musical instruments and accessories in a wide variety of price ranges, which can be tempting at times. But in order to choose a tool that will delight you, and not gather dust on the mezzanine, it is important to know a few rules.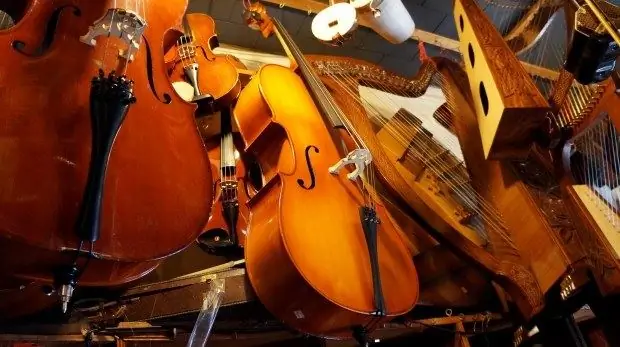 Tempting economy class
Perhaps, all music lovers, having discovered such Internet sites as Ebay or Aliexpress, sooner or later thought that with the help of these stores you can fulfill your old dream and purchase almost any musical instrument, while investing a minimum amount of funds. Chinese craftsmen are ready to sell, for example, new saxophones for seven thousand rubles, electric guitars for five thousand, not to mention the mass of consumables. The lower price threshold on such sites looks very tempting for an inexperienced user. However, buying into such offers, a musician can experience great disappointment when he receives an instrument that is poorly built, stubborn in playing, or simply has poor sound quality.
In this situation, it is easy to be the mean who pays twice. Therefore, before making such purchases, at a minimum, study product reviews, preferably from different sources. Look for information on specialized forums for musicians - they usually also discuss online shopping. Perhaps they will prompt you for a suitable online store or help you decide on the choice of a tool.
Please note that Chinese origin is not always a guarantee of defective goods. There are firms that have established themselves as good manufacturers. However, such tools are unlikely to be cheap anymore. Likewise, samples made in other countries may be of poor quality. For example, for fans of bagpipes and replicas of ancient instruments, Pakistan is such a non grata country.
Purchase features
After examining the reviews about the online store or the seller and his products, find out what guarantees he provides when buying a tool. Since we are talking about fairly large amounts, it is better to decide this issue in advance. Sellers usually offer refunds if you don't receive your package or if it turns out to be defective. In the first case, you need to find out the period during which you can apply for a refund. To be able to return a defective product to the sender, you need to unpack it and examine it for defects directly at the post office or in the courier service upon receipt. If you find a defect, you need to draw up an official protocol, on the basis of which you will present claims to the seller.
Keep in mind that often online purchases of musical instruments are made at your own risk. The exception is the official music online stores, which also have points of sale in different cities, for example, as the network of salons "Muztorg". Buying a tool through such suppliers is no different from buying in a Russian offline store, except that you place an order through the website. In this case, you have all the guarantees of the buyer (do not forget to keep the receipt issued upon receipt). However, most users are interested in the offers of foreign online stores, where you can find limited goods and tools that are rarely found on the Russian market. In addition to the lack of guarantees, service maintenance (these issues must be discussed with the seller separately, but they are no longer regulated by Russian law), there is another pitfall that may occur on the buyer's path - customs clearance. Currently, a duty of 30% of the amount of the parcel will have to be paid if the order value exceeds one thousand euros, and the weight is 31 kilograms. However, in the near future, new norms may be approved in Russian legislation that significantly lower this threshold.