Very often, making purchases in online stores is more profitable than in retail: attractive prices, fast delivery, a guarantee of a refund in case of customer dissatisfaction. eBay is one of the largest marketplaces where you can find products for every taste. It is not limited by the framework of the domestic market, orders are sent from anywhere in the world and to all parts of the world. To shop on eBay, there are a few things to keep in mind.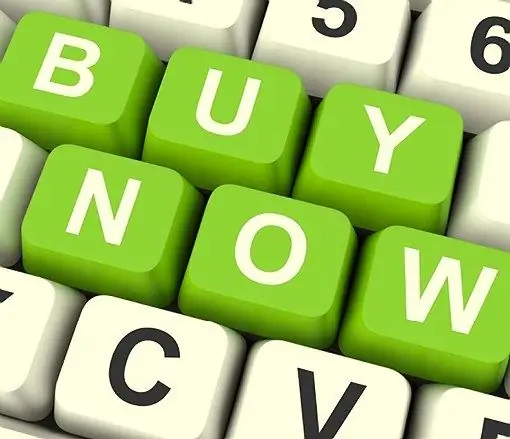 Necessary
bank card
Instructions
Step 1
First of all, you need to open an international card (Visa, MasterCard) in your name at any bank. All payments on eBay are processed through PayPal. Funds are debited in this system from a verified bank card, which is "tied" to your eBay account. Simply put, you must register with PayPal, enter your details and provide a bank card number.
Step 2
After that, you can register on the eBay marketplace. To do this, open the eBay home page (www.ebay.com) and use the "Register" link in the upper left corner of the window. Following the instructions, enter your personal data and confirm the registration on the resource by following the link that came to your e-mail.
Step 3
After confirming the registration, log in to the eBay resource using your username and password. In the upper left corner of the window, where your name appears, click on the arrow button and select "Account Settings" from the menu. On the page that opens, select the "PayPal account" section on the left. In the field "Your PayPal account details" click the "Link" button - you will find yourself on the authorization page of the PayPal resource. Log in with your account and your PayPal account will be linked to your eBay account.
Step 4
Return to the "Account Settings" section on eBay and select "Addresses". Check the information in the "Delivery address" field. If necessary, correct them and save the changes made. After that, you can go directly to purchases.
Step 5
When choosing a product, pay attention not only to the price and description of the product, but also to the seller's rating. If it is high enough (98-99% and above), it means that the seller has proven himself on the good side: he collects and dispatches orders on time, is ready to resolve issues in case of customer dissatisfaction.
Step 6
Before adding an item to your cart, make sure the supplier ships the items to your country. This information is indicated in the field "Shipment" - "Country of delivery". If everything suits you, click the Buy Now button. When all the goods you need are in the basket, confirm the order by following the pop-up instructions and pay for it (redirection from eBay to PayPal is automatic). After receiving the order, leave feedback on the seller's work through the menu "My eBay" - "Purchase history".