If you live in an area where no Internet provider has established its dedicated lines yet, or simply lead a mobile lifestyle, then Internet connection using a cell phone is just for you. After all, there are GPRS / EDGE / 3G coverage areas practically on the entire populated territory of Russia. You just have to carefully study the tariffs of the operators, choose the most optimal option for yourself and connect to it.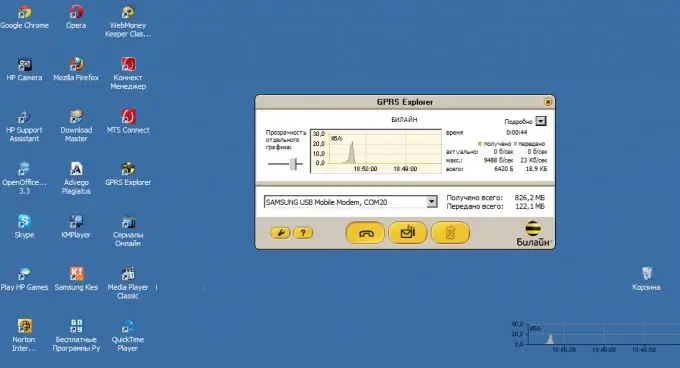 Necessary
- Computer;
- mobile phone with GPRS / EDGE / 3G support;
- cellular coverage area.
Instructions
Step 1
Make sure that you have activated the GPRS Internet service. Select the Internet profile of the required cellular operator in the phone's connection settings. If your mobile model does not have built-in Internet connection profiles, order the settings from the service center of your mobile operator.
Step 2
Connect your phone to your computer in any possible way - via USB cable, bluetooth, or infrared. All drivers required for this must be supplied with the phone. When connecting the phone with a cable, select the desired connection mode in the phone menu: telephony mode, Internet access, etc. For details, check the technical documentation of the phone.
Step 3
Open the modem control window on the computer (Start menu - Control Panel - Phone and Modem). Open the Modems tab and make sure your phone is listed. If not, check your phone's connection to your computer and reinstall the drivers.
Step 4
Find further detailed connection settings for your carrier, phone model and type of computer operating system on the website of your cellular company (links are provided below).
Step 5
Please note that some companies offer users to download Internet connection management programs for free, in which all the necessary settings are already installed by default. Beeline has such a program called "GPRS Explorer", and MTS - "Connect Manager". You can find them at the links below.
In addition, ready-made connection profiles can be found in the driver programs of the phones themselves. For example, such a program (Networking Wizard) automatically starts when a Samsung phone is connected to the computer.
Step 6
Install such a program on your computer, wait until it recognizes the phone, and click on the network connection button. Connection statistics will be displayed on the computer monitor. If necessary, slightly adjust the program settings. For example, in the MTS program, you may have to select the type of connection (3G or EDGE).