More and more often there are situations in which it is required to access the Internet from several devices at once. These can be both computers and laptops, and communicators or mobile phones that support Wi-Fi standards. In any case, the simplest way to achieve general Internet access is to create a local network, one of the computers of which has access to the Internet.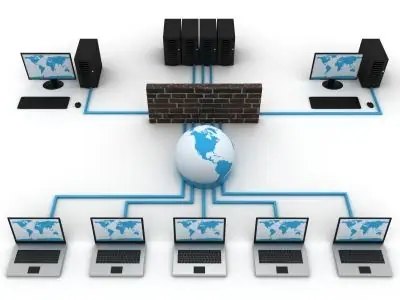 Necessary
- Network cables;
- switch.
Instructions
Step 1
Decide on a computer from which Internet access will be distributed. One of the mandatory selection criteria is the presence of at least one free LAN port in the network card.
Step 2
Get a switch. When choosing this device, be guided by the following principle: the number of LAN ports should not be less than the number of computers in the future LAN, including the main one.
Step 3
Connect all other computers to the switch. To do this, you need LAN network cables. Open the new LAN settings on the host computer. In the properties of the TCP / IPv4 protocol, fill in the first two fields, respectively: 192.168.0.1 and 255.255.255.0.
Step 4
Open the Internet connection settings and select the "Access" tab. Turn on the item responsible for accessing the Internet to computers on the local network.
Step 5
Open TCP / IPv4 settings on other computers and fill in the first four fields as follows:
1. 192.168.0. R, where R is any number from 2 to 250.
2. 255.255.255.0.
3. The IP address of the host computer.
4. Similar to point 3.