The Internet is a treasure trove of useful information, and very often you want to save it for future use. The hard disk space has a limit - it is impossible to save all the sites that interest you, and this is where the Internet browser bookmark service comes to your rescue. The number of bookmarks is unlimited, which means that you can save a link to any site that interests you, and which you want to save for the future for permanent access.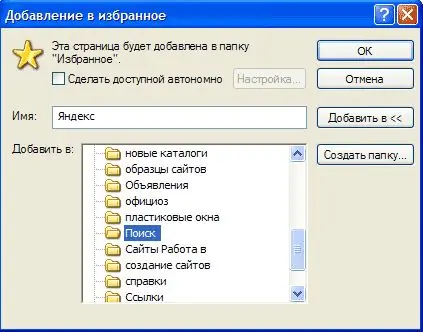 Instructions
Step 1
Open any site in your browser (for example, Firefox). Click the Bookmarks tab and then click Add Page.
Step 2
You can also add a quick bookmark by clicking the star icon in the address bar. It will turn yellow and a window will open in which you will have to enter the name of the site, check the address and click "OK".
Step 3
If you wish, you can categorize the existing browser bookmarks - for this, in the "Manage bookmarks" section, select "Create a new folder", give it a name and move the corresponding bookmarks into it.
Step 4
If you are using Internet Explorer, click the Favorites menu tab and select Add to Favorites. The site will appear in the list of bookmarks.
Step 5
You can, just as with the previous browser, give the site a separate name that you remember better than a simple address. When adding to favorites, select the folder where the bookmark will be saved.
Step 6
If you have Opera, then to create a bookmark, press the key combination Ctrl + D or in the "Bookmarks" panel select "Bookmark this page". Change the name of the saved link and select the favorite folder to save, or create this folder yourself if the desired folder is not already in the directory.
Step 7
You can also save bookmarks in the root directory of your favorites, without adding links to separate folders.