When working with video materials, it is important to be able to capture video for its further processing and use in video editing, various videos, clips and presentations. There are many programs for capturing, both more professional and very simple, but in most cases, for high-quality video capture from different devices, an ordinary program built into Windows XP - Windows Movie Maker will be enough.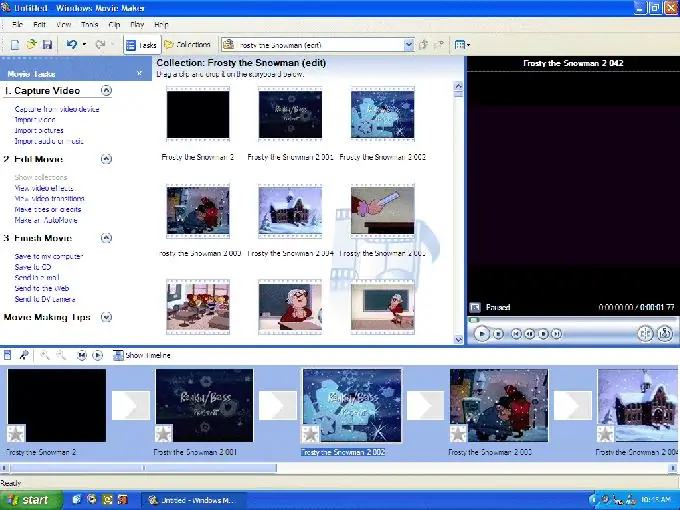 Instructions
Step 1
Launch Movie Maker and on the menu bar, click the View tab, and then open the Options. In the parameters, specify the folder or directory where your video files should be subsequently saved, and then uncheck the "Automatically create clips" box so that the program does not start splitting your video into parts without permission.
Step 2
At the bottom of the video window, find the drop-down list with codecs - select the appropriate codec to encode your video when capturing. When a digital camera is connected, it is best to select the DV-AVI codec.
Step 3
After selecting a codec, start capturing video by controlling your digital camera directly with Movie Maker tools. Keep a close eye on the video preview to mark the beginning and end of each segment of video to capture.
Step 4
After the capture is made in the required number of fragments, the resulting videos will be saved in the directories that you previously specified in the settings.
Step 5
Video encoded and captured in Movie Maker is in DV Type-2 format. This format is universal and can be played in almost any video player and video editor, which you can use for further proofreading and recording processing.
Step 6
The only drawback of Movie Maker compared to more professional programs is that you have to manually mark the moments when you need to turn the camera on and off if you want to capture video in parts, rather than in full.
Step 7
The program does not know how to automatically divide the video into parts, and therefore you will have to do it manually. Nevertheless, even a novice user can learn how to capture video in Movie Maker, and this method is the simplest and most affordable.