Can't go to your Vkontakte page? Carefully check the spelling of your username or password. If all the data is correct, it is most likely that you have been hacked. Or the page was blocked by the site administration. In this case, instead of the main photo, a rather unsightly "physiognomy" is displayed. Do not despair: all is not lost yet. The page can be restored.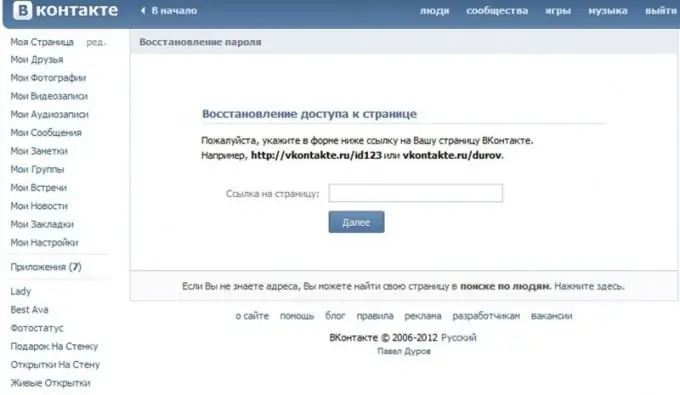 It is necessary
- computer (or telephone) with Internet access;
- a phone number with the number that was indicated during registration on the site,
- your login to enter the page;
- New password.
Instructions
Step 1
First, you need to go to the page for restoring access to the site at: http // vkonakte.ru / restore. Here you will need to enter your data: mailbox address, login or phone number associated with the page. If you have indicated everything correctly, a picture with a code will open in front of you in a small "window", which for further work must be entered in an empty field. Be careful! Make no mistake! Enter the code as it appears. If the letters and numbers are entered correctly, a page will open in front of you, access to which you needed to restore. You can "find out" her by her personal photo, surname, name and place of residence. If the data that has opened in front of you is yours, feel free to click on the window that says "Yes, this is the right page."
Step 2
If you do not remember your username or "name" of the mailbox, take the opportunity to restore access to the page at its address. To do this, on the page https://vkontakte.ru/restore select the bottom link with the words "click here"
Step 3
You will see a page to which you need to restore access. Here you will be asked to fill out a questionnaire, where you must indicate the phone number (old and available), e-mail and other data
Step 4
If the page found does not match the search query, select on the right of the page, near the photo, the box with the words "If this is not the page to which you want to restore access, click here." Click on the highlighted link and go to the address where you will be asked to enter the phone number to which your page is linked. Within a few minutes, an SMS message with a code will be sent to your phone. It will need to be specified in the next window that opens. Then you will be prompted to enter your username and new password. They will later be duplicated by a message to your phone number
Step 5
After the performed operations, go to the main page of the site and enter the updated data - login and password. All is ready. Now you can "meet" again and fully communicate in your favorite VKontakte.