The Internet provides many opportunities for entertainment, business, and information. One of the advantages of the global network is its efficiency, which makes the Internet an indispensable way to quickly communicate this or that information. In particular, this also applies to ads.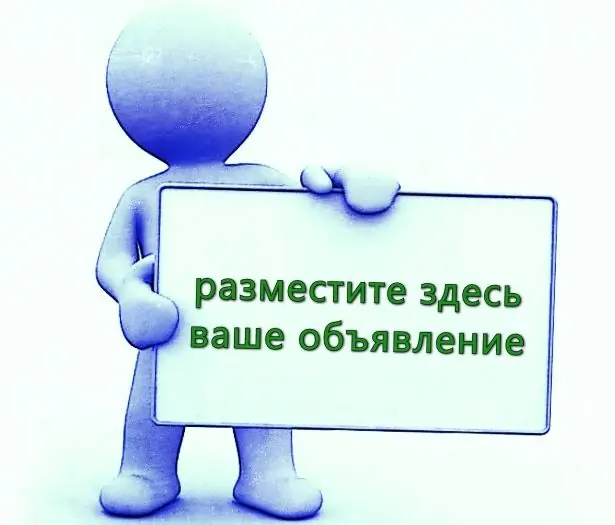 The benefits of posting ads on the internet are obvious. In addition to the fact that you do not need to wait, as is the case with newspapers for free ads, or pay for placement, as in the option with a crawl line, you can also provide maximum information about your product or service, post photos, copies of documents or other significant data … In addition, the ad on the site can be seen by users from all over the country, and not just residents of your city or region.
First, you need to choose the site to which you will submit your ad. Despite the fact that the number of message boards on the network is very large, it is not worth posting your information on each of them. It is much better to choose a few of the most popular sites. You should be guided by the visit counter, place in the search engine, reviews of other users. In most cases, you will need to register your account on the selected sites. As a rule, the registration procedure is quite simple, it is enough to provide an e-mail address, name and password.
After your account is activated, you can proceed directly to placing your ad. It is advisable to study the rules of the site in advance so as not to get blocked. You may not post advertisements on the sale or purchase of prohibited goods and services on any sites. In addition, some boards impose limits on the maximum number of ads per account. After reviewing all the rules, choose a heading for your message. Remember that on many sites it is forbidden to remove the ad before the end of the term and to re-post it, so be careful with the choice of the category and filling in all the fields of the submission form. Also, you will need to select the term for placing the ad and provide contact information.
If you are selling something, do not be lazy to make and upload a photo, as this will greatly increase the interest of users.
Many sites provide additional services for a fee. This can be highlighting the ad with color, moving it to a higher place in the heading, increasing the ad limit.