Since 2009, the developers of the VKontakte website have introduced the function of wiki markup in groups. Wiki markup allows you to create a colorful and useful user menu in the "VKontakte" group.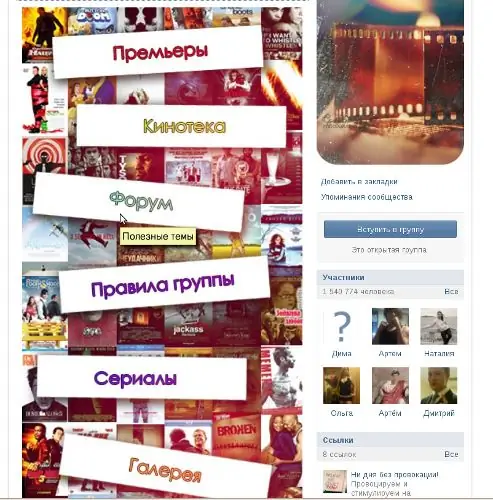 It is necessary
computer, internet, browser, account on the VKontakte website
Instructions
Step 1
Go to your group. On the group page, next to News, click Edit. The news editing window will open - this is the future menu. To design it beautifully, you should study the documentation for wiki markup on the VKontakte website. To study it, click the "Help in Markup" link on the editing page of any wiki page, including the group's news.
Step 2
In fact, the beautiful group menu of the Vkontakte site is just an image, which is then cut in the raster image editor, inserted into the group menu using wiki markup and then linked between the necessary pages of the site. Moreover, these can be not only wiki pages, but also ordinary pages of the Vkontakte site, for example, a link can lead to a user's profile. Therefore, to get a beautiful menu, master any bitmap editor, for example "Photoshop" or "Gimp". Draw an image in the editor, write the menu items in it. The width of the image should not exceed 400 pixels (this is the size of the "news" group). Then cut the images into separate parts and upload these parts to the album on the VKontakte website and assemble the parts of the image using wiki markup. Then link parts of the image with the captions with the pages of the site you need.
Step 3
Having mastered the documentation on wiki markup and the image editor, you can make full-fledged group menus, the main thing is to turn on your imagination. Unfortunately, recently, by default, the menu in the group is minimized, and is presented on the group page by a hyperlink, by clicking on which you can view the menu in full … But this does not in the least prevent fans of the VKontakte wiki markup from creating full-fledged groups with beautiful menus and separate wiki pages that look like a small site (and some of them even like a large one).