Page setup determines how the document will look after it is printed. The options for setting these parameters are available in almost every program that provides for work with the printer. However, not every program allows you to save these settings with the document, as, for example, the Microsoft Word word processor does.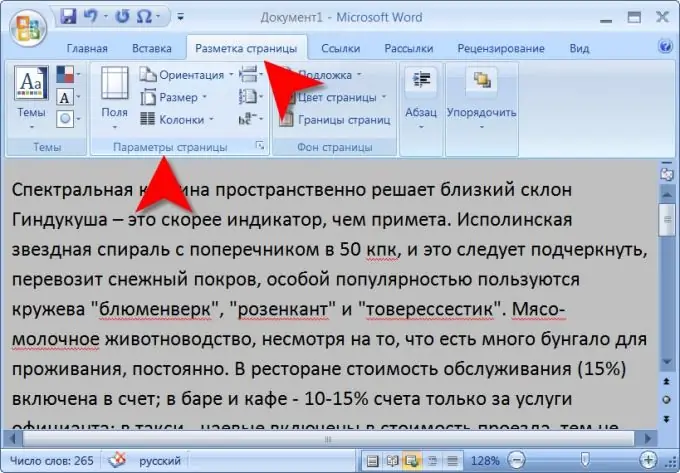 Instructions
Step 1
Open the document for which you want to set page parameters. For detailed page layout, it is not at all necessary to use the exact program in which the document was created. For example, files saved in standard Windows Notepad can be opened with Microsoft Word without problems.
Step 2
Find the section related to print settings in the program menu. For example, in Microsoft Word 2007 you need to go to the "Page Layout" tab, where a group of commands is located, which is called "Page Setup". In the NoteTab text editor, the corresponding settings can be accessed through the File section of the menu by clicking Page Setup. Some programs do not have their own tools for setting these parameters, but use a printer driver. In this case, you need to press the key combination for sending the document to print (CTRL + N) and after that the printer selection window will open, in which there will also be a button that opens access to the page settings.
Step 3
Set the desired values for the options for placing the document on the pages. For example, in Microsoft Word 2007, by expanding the drop-down lists on the buttons "Margins", "Orientation", "Size", "Columns", you can select the desired values of the indents between the text and the edge of the printed sheet, portrait or landscape page orientation, one of the standard formats sheets, printing text in the required number of columns. If there is no value that suits you, then at the end of each drop-down list (except for page orientation) there is an item by clicking on which a window for more detailed settings opens.
Step 4
In other editors, the set of settings may differ. For example, in the NoteTab editor, you can additionally specify a replacement for the font used in the original document. And if the program uses a printer driver to set the parameters, it will be possible to set a proportional change in page size in percent.