On the Internet, users can exchange files in various formats, and browsers have a Download Manager for this. To become familiar with the possibilities of downloading files through the browser and set your own values, you need to perform several steps.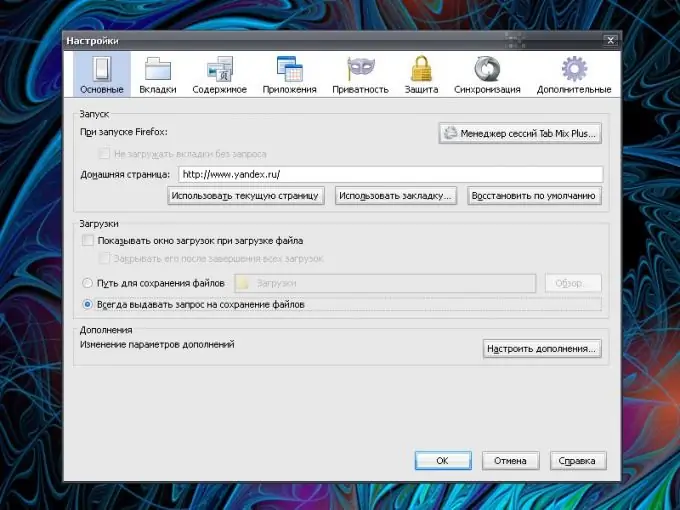 Instructions
Step 1
The download starts at the moment when you select the file you need and click on the "Download" button. The "Download Manager" is activated, processes the information and offers you options for actions with the file. To open the download window in Mozilla Firefox, launch your browser and select Downloads from the Tools menu. A new window will open in which a number of actions with files are available. This window may automatically appear when you download a file, if the browser is configured accordingly.
Step 2
In the "Tools" menu, select "Options". A new window will open. Go to the tab "Basic" in it. In the "Downloads" group, you can customize the parameters for downloading files at your own discretion: displaying the downloads window, the path for saving files, the presence or absence of a save request. After making your changes, don't forget to click OK for the new settings to take effect.
Step 3
It is also possible to install add-ons in the Mozilla Firefox browser, with which you can control downloads (for example, Download Statusbar). You can find add-ons on the Mozilla website. After installing them in the "Tools" menu, select the "Add-ons" item and the "Extensions" section. Highlight the appropriate add-on and click on the "Settings" button to set the desired parameters.
Step 4
In Internet Explorer, the names of the tools and menu items are slightly different, but they essentially accomplish the same tasks. Select "Internet Options" from the "Tools" menu and click the "Security" tab. Highlight the Internet icon and click the Custom button. An additional window will open, find the "Download" branch in it and mark with a marker the parameters that will provide you with a comfortable download of files from the network. Apply the new settings.