Since 2008, Anonymous has managed to be called the most influential people on the planet, and the main swindle of the century, and even a new world religion. However, the majority of the population, not related to Internet users, does not even know about the existence of such a movement, especially since there are not so many specific sources of information.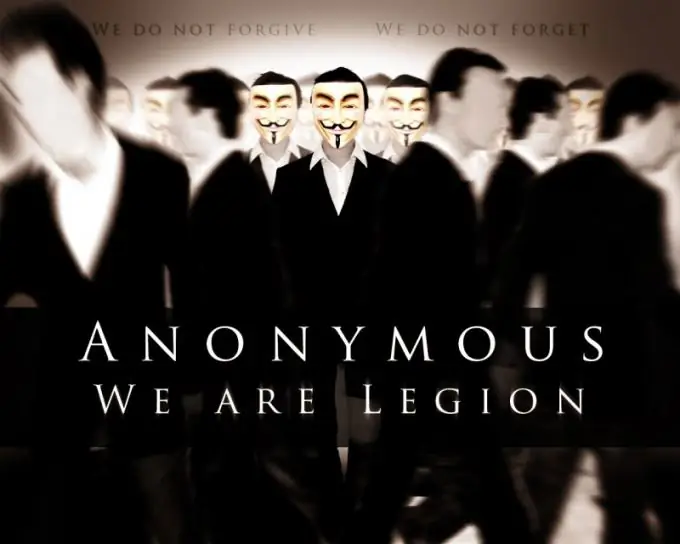 The Internet is a space where everyone can get free access to any information, while remaining absolutely incognito (ie, being an "Anonymous"). In the opinion of the overwhelming majority of users, this is a feature that determines the very essence of the world wide web, and any attempts to change the state of affairs should be thwarted.
Anonymous in a general sense is a movement of people advocating free access to information and the independence of the Internet in particular. In the broadest sense of the word, this is not an organization, but a collective image (some kind of Internet folklore) that people resort to, defending these ideals.
The first conflict erupted in 2008 when the Church of Scientology tried to remove Tom Cruise's video interview from the Internet. This was extremely disliked by the Internet community, because in fact, the first major attempt to censor the World Wide Web was carried out. Protest actions began, a distinctive feature of which was the wearing of masks by the participants. This was done on purpose to emphasize that the protesters are not individuals, but members of the community.
In 2010, the word Anonymous has a new meaning. At that time, there was a scandal with the founder of the Wikileaks website, Julian Assange, who was threatened with criminal prosecution for posting government documents in the public domain. Again: Assange acted for the benefit of the ideology of the network, creating open access, and therefore there were people who were ready to stand up for him. They turned out to be a group of hackers who called themselves "Anonymous". In a video message on the youtube.ru site, anonymous proclaimed the beginning of a serious war for the independence of the Internet: hackers set themselves the task of proving that it is impossible to argue with users.
Over the following years, the group claimed responsibility for the "crash" and hacking of dozens of sites, including: payment systems Paypal, Visa, Mastercard (disabled), the PlayStation Network, public display of the video conference of the FBI and Scotland Yard.
The main problem of the organization is that complete anonymity allows any user to speak on behalf of everyone else. As a result, allegedly "Anonymous" make dozens of promises that do not fulfill - the collapse of Facebook and Twitter, for example. But this is no reason to doubt the strength of the organization: after all, when the MegaUpload website was closed, it took anonymous 15 minutes to bring down the websites of the FBI, Universal Music, the association of film companies and the White House.