Hunting simulators are a very peculiar genre that fans of dynamic shooters will hardly like. Here you need to do everything quietly and smoothly so as not to let your prey get out of hand.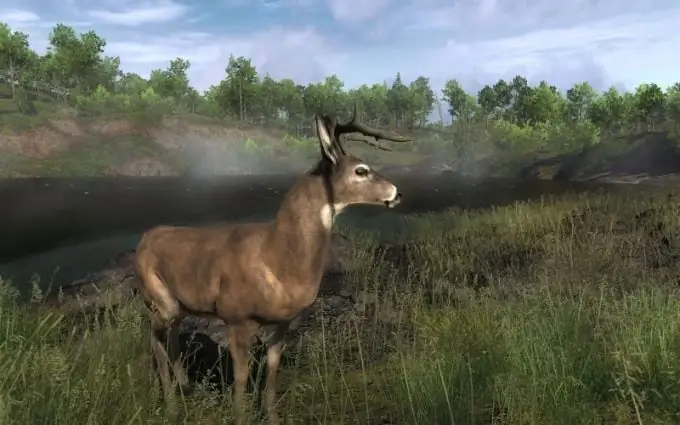 Hunting simulators are in great demand among those people who like to take a break from shooters, strategies and other games where you need to quickly make certain decisions. Unfortunately, recently games in this genre appear quite rarely, but even here there are "giants".
Cabela's Big Game Hunter
One of them is the Cabela's Big Game Hunter series of games. This game is the ancestor of all hunting games. There is a huge number of missions, which, in principle, boil down to one thing - to find and kill a certain number of certain animals. Of course, this game is hardly suitable for beginners, since it has a rather complex interface that still needs to be dealt with. In this game you can hunt for: deer of different breeds, bears, rabbits, wild boars and other animals. Naturally, if they notice or hear you, they will try to escape. That is why everything must be done as quietly as possible and at the same time, do not rush, otherwise you can frighten off the prey. The player's arsenal has everything he needs to catch his victim. There is a huge amount of firearms, bows, crossbows, baits, etc. It will not be possible to shoot an animal just like that. To do this, you need to take into account the flight trajectory, the peculiarities of reloading the weapon, its strength and other factors.
Hunting Unlimited
Also, users can try their hand at the hunting simulator Hunting Unlimited, which is also popular among hunting fans. The player will have to visit about 50 states of America in search of their prey. Of course, in order to completely complete the game, you need, firstly, to visit all of them, and secondly, to complete the tasks that are given at each of the levels. The tasks are not distinguished by their originality - you need to kill a certain number of animals in a certain time. The player's arsenal also has enough weapons and baits to hunt down and kill the animal. The player can be hindered by a huge number of factors, ranging from bad weather conditions to the correct choice of weapons.
The hunter
Another hunting simulator has recently appeared - The Hunter. It should be noted that among all the hunter simulator, this one is the most realistic. The victim of a player can be one of 16 types of animals. There are: deer, bears, boars, wild boars, turkeys, foxes, deer, moose and others, and the player will hunt in North America. Naturally, everything must be done deliberately and try not to make noise so as not to frighten off the prey. The game has very attractive graphics and a perfectly understandable interface.