The popularity of guitar simulators today has sown the widespread belief that once you have been successful in playing a simulator, you can easily switch to a real instrument. However, things are not as simple as they seem.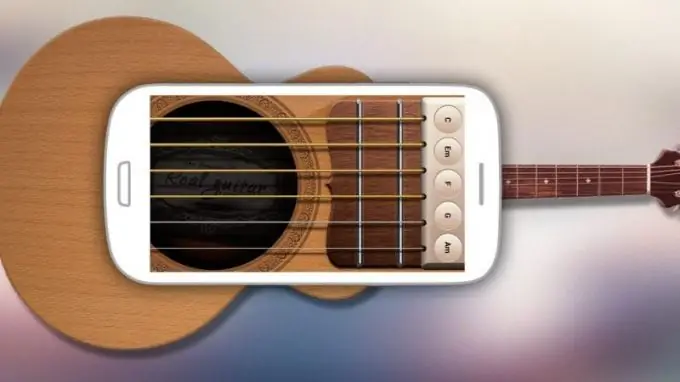 Game and life
Today, simulators for playing musical instruments and guitars in particular have become extremely popular. Games for PSR and Xbox consoles, various applications for mobile phones and tablets based on Android and Windows are being created. Schoolchildren, students, their parents and grandfathers - all plunged into this musical gambling addiction. However, it is no longer the love for such simulators that is surprising, but the widespread opinion that they are able to replace a real musical instrument or, at least, facilitate the transition "from game to life." However, it should be understood that everything is not as simple as it seems, because a game is a game, especially since you can learn how to play it in a few weeks. Music, on the other hand, is a whole layer of art, which is learned over the years, from an early age to maturity.
Fingering, musical notation, ear for music
Contrary to the judgments of those who believe that guitar simulators can develop musical abilities, there is a sufficient number of arguments confirming that the simulator not only does not develop a person musically, but also alienates the player from the real instrument. Toy guitars for the most popular game Guitar Hero only vaguely resemble a real instrument in shape, differing from it in everything, from the body material to its size. The lack of strings and the required number of frets, the absence of sound production as such make a fake just a toy. The player learns to press the buttons on time, develops attention and increases the responsiveness, but playing a real guitar requires more.
Firstly, simulators do not teach musical notation, which is the alphabet for every musician. Any student begins with its study, and he uses it throughout his musical activity.
Secondly, the simulator does not teach the correct placement of hands and fingers on the instrument, does not teach chords, which is the most important thing for a guitarist.
Thirdly, simulators do not develop an ear for music in any way. The player does not repeat the notes, does not try to catch the melody, he only presses the buttons shown to him in time. Coordination of movements and the ability to "listen" to music is what any musician is taught from childhood.
Therefore, if you want to learn how to play the guitar, it is better to buy a real musical instrument. Don't waste time and money on children's toys that only benefit from fun and special effects. Real learning is much more difficult and more thoughtful than the implementation of simple and uncomplicated rules of a computer game.