There are many resources on the Internet that provide options for downloading audiobooks. Among them: stores of licensed digital content, torrent trackers, file sharing, specialized sites and even social networks.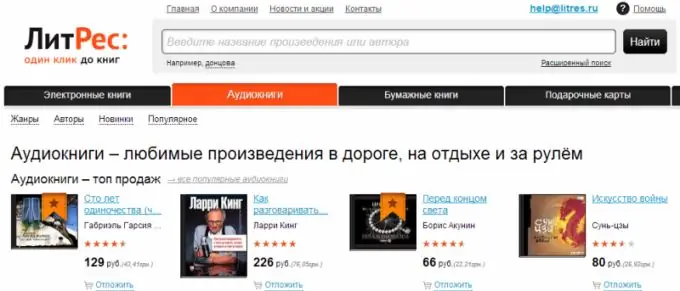 Licensed digital content stores
You can download an audiobook by paying a certain amount in such online stores as "Liters" and OZON. Payment is made using electronic payment systems. It is a simple, convenient and completely legal way to purchase digital content. Such stores cooperate with publishers, so the authors of the audiobooks sold there receive the required rewards for their work.
To download an audiobook, for example, from the "Litres" store, go to the following link: https://www.litres.ru. To take a look at the assortment, use the buttons of the catalog navigation menu. If you are interested in a specific work, enter the required title in the search bar. Provided that the desired audiobook is present on the site, immediately after entering the corresponding information about the availability will be displayed. By clicking on it, you will be taken to a page from which you can download the file to your computer. To do this, click "Buy and Download", select a payment system and follow the further prompts of the system.
In addition to sources that distribute audiobooks in an exclusively legal way, there are others that provide illegal access to some of the content. But do not neglect these resources and consider them immoral, because within the framework of the law, the authors themselves often use them if they wish to share their own works for free. Further we will focus on such controversial sources.
Specialized sites
The audiobook lovers club, available at the link https://abook-club.ru, is a community of enthusiasts who themselves voice the texts and upload the recordings to the network. Here you can find a large number of audiobooks that are not available in online stores. Of course, not all of them are comparable to professional works, but many are made at a very decent level.
To find the audiobook you need, use the headings on the main page of the site. After selecting a specific song, the display will show detailed information about the download methods. Most often, such sites provide links to torrent trackers and file sharing services, with which you can download files to your computer.
Social media
Another resource on which audiobooks can be stored is the VKontakte social network. To download the necessary audio files using this service, you can use special tools. VKSaver can be considered as an example.